48 total views

Berkeley, California, is the center of the San Francisco Bay Area in more ways than one.
Yes, it is geographically central, just minutes east of San Francisco directly across the Bay Bridge. Hotels and restaurants are plentiful, accustomed to catering to the University of California Berkeley campus visitors. Using BART (Bay Area Rapid Transit) or by car, Berkeley is a great urban base camp for exploring not only the City of San Francisco, but the wine country to the north or the businesses of Silicon Valley to the south.
But Berkeley's also a leafy, neighborly, and culturally vital destination all its own, right in the midst of the Bay Area. Berkeley visitors will find world class food, wine, and culture, plus loads of outdoor spaces for recreation without leaving the Berkeley city limits.
The Bay Area
Of course the city of San Francisco, just called The City by locals, has always been the exotic hub of the area, easy to romanticize with its hills and cable cars and piers; its hilly skyline and parks; its sourdough bread and Ghirardelli chocolate; its political and social and cultural history. The iconic Golden Gate Bridge connects the City to coastal towns and California's famous wine country and marks the entrance to the commercial ports and recreational marinas surrounding the Bay.
The Bay Area region, comprised of nine counties, wraps around the significant San Francisco Bay, big enough to be visible from space. The full metro area (the combined statistical area for those keeping track) counts the Bay Area as the fifth largest urban area in the United States, with a population pushing 10 million. In California, it's second to Los Angeles.
Berkeley, with a population of 124,000, feels like a small town, a calm center to the bustling Bay Area. Yet it is filled with things to do. That's why Bay Area visitors – whether traveling there for business meetings, college visits, road trips, wine tours, concerts, sports, or any other reason – would be wise to set up base camp in Berkeley.
Here are ten reasons to make Berkeley your Bay Area base camp.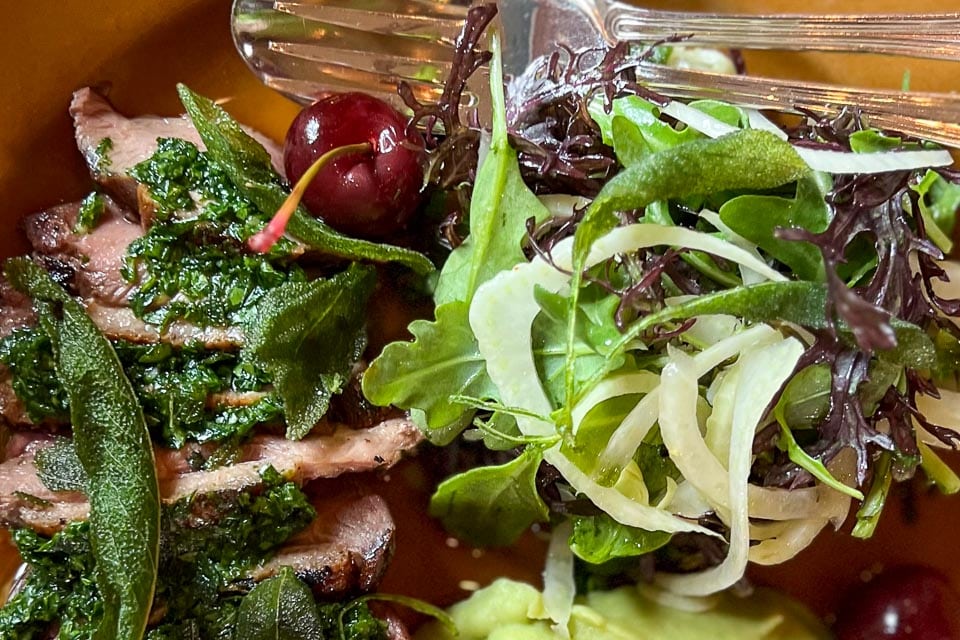 The Food and Wine Scene
Every time you venerate farm-to-table restaurants, or chef-driven menus honoring the freshest local ingredients, you have Berkeley to thank. It started here in 1971 with Alice Waters' Chez Panisse, still operating today on the best foodie street in Berkeley, North Shattuck.
We spent the better part of a day tasting great dishes along this avenue. Several highlights are listed here, but that's not to minimize the overall scene, which is relaxed, unpretentious, family friendly, neighborly, and outright excellent from restaurants to bakeries to pizza joints to shops and markets. A lot of the excitement is around urban wineries and brewpubs, too.
North Shattuck
They say "Come for the culture, stay for the food.' We say you may as well start on North Shattuck for a bite to eat.
Chez Panisse. Arguably the birthplace of farm-to-table restaurants. On one lucky day, we walked in just to have a look and – because we asked – found they could squeeze us in for a 75-minute lunch in the café upstairs. (The main restaurant is on the first floor of the cute arts and crafts house, converted to one of the country's most famous restaurants.) A most memorable meal, with flavors bursting from every ingredient, and the chance to peer into the kitchen, as lush as a movie set and bordered with serious chefs working around huge bowls overflowing with fresh produce.
Just for the record, two of us shared a Moroccan carrot salad with sumac, dates, green coriander and yogurt, followed by Sonoma County duck breast with fava bean puree served with pickled cherries, sage and fennel salad.
Peet's Coffee. The chain's original retail store and roastery is just around the corner off Shattuck at 2124 Vine. Here's another historic spot in the culinary and caffeinated history of the country, introducing fresh roast and dark roast coffees to America in 1966. This store later spawned the founders of that other little coffee chain, Starbucks.
Cheese Board Collective. The best cheese display I ever seen, complemented with in-house bakery, par-baked pizzas, and an adjacent pizzeria where you might find live music on Saturdays. Don't forget to splash the green sauce over your hot pizza.
Saul's Restaurant and Delicatessen. A classic deli with cozy booths, chrome-rimmed stools at the counter, an irresistible display case for take-out or dine-in orders, table service if you choose, and all the beverages from coffee to cocktails. No reservations (and no AmEx or cash), so sort of the opposite of Chez Panisse!
The Local Butcher Shop. Specializing in meats from animals raised by farmers within 150 miles. Residents love the meat baskets to feed a family for a week. Travelers find plenty of sando specials and options for take-out dinners to enjoy picnic style, back at the hotel, or to pack up for a road trip to the next state or national park.
Masse's Pastries. For me, this place is all about seeing what's in the case when you walk in. For most people, the specialty cakes here are order-ahead affairs that mark nearly every birthday and anniversary and/or some made-up celebration to justify another Masse's cake.
Acme Bread Company. Supplier to the area's top restaurants and the lucky people of Berkeley. These folks were among the pioneers of the Bay Area "bread revolution," a return to artisan breads. Imagine: breads defined by flavor and texture! Check out the website to read the story of Acme; its passion for quality has shaped the industry since Acme was established in 1983.
And more. Just strolling up and down North Shattuck will reveal many other tasty destinations. Epicurious Garden offers a half dozen eateries beside a little garden walk curling off Shattuck. Fava on Vine Street just east of Shattuck, near Peet's, is a popular stop (and next to a couple nice shops for home decor or shoes). Just order at the sidewalk window. Cupcakin Bake Shop is perfect for a mid-afternoon cookie or cupcake, or large orders if you are thinking ahead.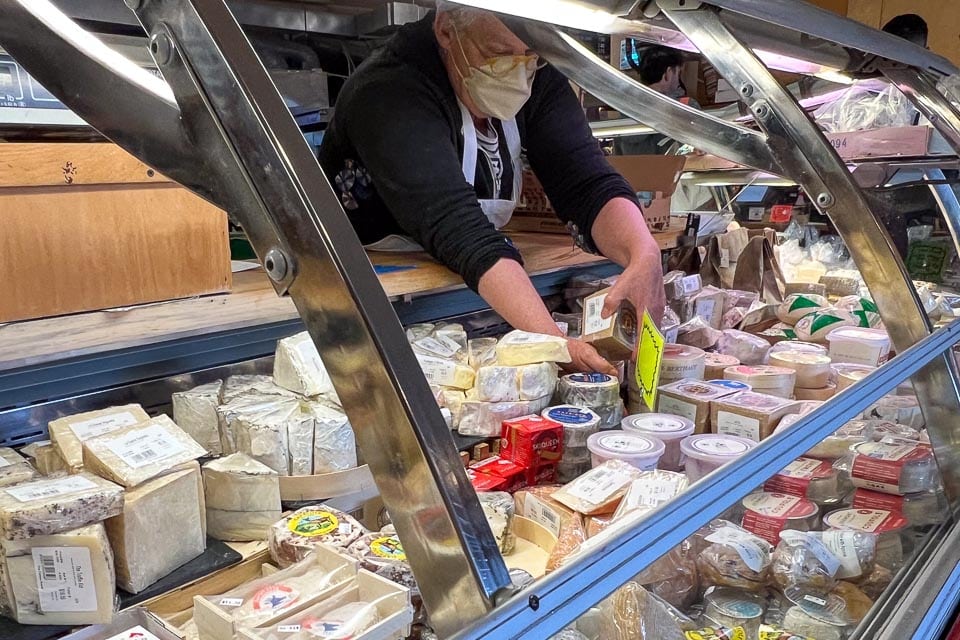 More Food And Drink around Berkeley
Great restaurants are spread across Berkeley. Sorry I could not sample more, but here's a selection of best Berkeley restaurants, wineries, breweries and shops to find on your personal Berkeley food tour.
Zut! On Fourth. A comfortable bistro serving California/Mediterranean dishes (I dug into Moule Frites) with a fine wine lists. Allow extra time to stroll this upscale shopping street.
Gather. Inspired breakfasts or fresh food any time of day, with a great patio, spacious interior and location close to campus.
Revival Bar and Kitchen. Conveniently located in downtown Berkeley, so enjoy the sustainably sourced brasserie menu with cocktails or wine before or after a show. Just a couple minutes walk to the Downtown Berkeley BART station.
El Patio Restaurant, bar, patio catering to all your Mezcal needs, among other things.
And speaking of drinking, enjoy a moment at Covenant Winery, one of the creative urban wineries of Berkeley. The popular Jupiter Beer Garden serves up their own rotating menu of craft beers, wood-fired pizza, and live music.
Landmark grocers and wine shops include Monterey Market for serious food and fresh produce shopping. Kermit Lynch is the top wine merchant in town…and they ship to your doorstep so you can get a taste of California right now.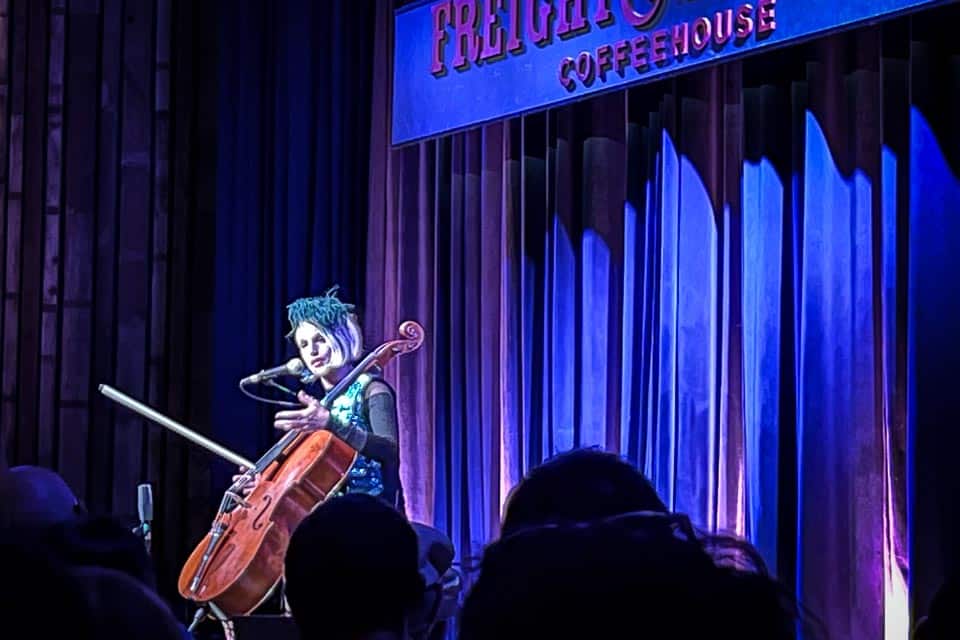 Berkeley Arts and Culture
While Berkeley is just a hop, skip and a jump into San Francisco for all the arts and culture you might want, it's an arts and culture center unto itself. Partly because of the UC Berkeley campus and largely because residents support the arts, Berkeley is home to renowned museums, venues, and performing companies.
During my short 3-night stay in Berkeley, I went into the City one night (for Madame Butterfly by the San Francisco Opera), I enjoyed live music another evening (Zoë Keating at the Freight and Salvage), and managed to fit in a gallery visit, too.
Here are some options to explore when you'd rather keep it simple and get your culture right in Berkeley – where driving and parking are quite easy. Check these various season schedules and you'll be inspired to make multiple trips to Berkeley.
Berkeley Repertory Theatre. This renowned regional theater has been around since 1968, producing everything from classics to contemporary, musicals to experimental and world premieres. Two theaters (one with a thrust stage) provide intimate settings in the heart of downtown Berkeley.
Berkeley Art Museum & Pacific Film Archive (BAMPFA). Besides the art galleries, be sure to see what movies are showing. Real gems here.
Cal Performances. The best performers in dance, theater, and music are invited to join the Cal Performances seasons. Look for an additional "Conversations" series featuring thought leaders across all disciplines – from science to literature – discussing the world.
Berkeley Art Center. Contemporary art gallery and community event space. The online shop is very tempting.
Aurora Theater Company. A community theater with a mission to tell the most relevant stories of the day. Originally staging performances in Berkeley City Club, the troupe has moved to a 150-seat theater in Downtown Berkeley's arts district.
ACCI Gallery. Berkeley's long-runnng Arts and Crafts Cooperative gallery, showcasing over a hundred member artists from the area. Conveniently located on North Shattuck for your before or after eating pleasure. Don't miss the garden sculptures out back.
There are so many viable arts organizations and performing arts groups in Berkeley, it's quickly apparent that locals don't just enjoy attending and supporting the arts, but many participate as well. Education is a strong component of Berkeley arts institutions, and nearly all offer a mix of local and international, resident and visiting artists – another outcome of a strong University town. Keep looking beyond the well-known organizations above, and you'll find many more worthy groups:
Bay Area Children's Theatre; Berkeley Community Chorus and Orchestra; Berkeley Playhouse; Berkeley Symphony; California Jazz Conservatory; Berks History Center.
For music, also check out the upcoming shows at these venues before finalizing your itinerary:
Freight & Salvage A non-profit music venue started in the 60s as a promoter of folk/roots/counterculture music, now featuring popular American and World music in a nice newish 220-seat hall in Downtown Berkeley. Walk from your hotel?
The Greek Theatre at UC Berkeley On campus outdoor venue.
Or, find scheduled seasonal live music at brew pubs, wineries, restaurants, and even parks like the UC Botanical Gardens. In Berkeley, the arts are embedded in the community and most aspects of daily life.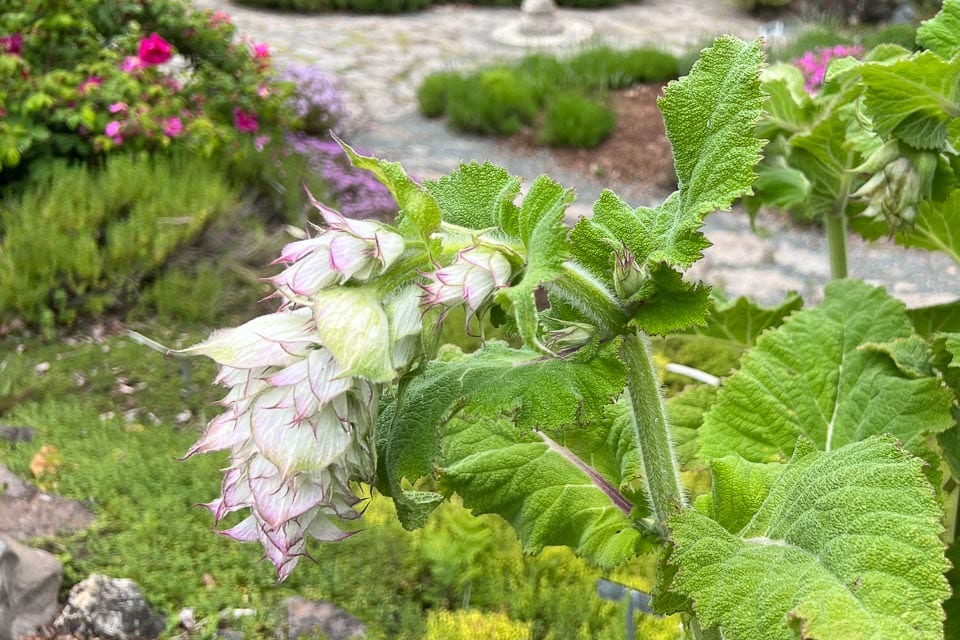 Berkeley Outdoor Recreation
One of the big surprises Berkeley has to offer is a ton of green space, and a great variety of outdoor spaces for walks, biking, play, or pure enjoyment of views and the outdoors. Did we mention the great views over the Bay to San Francisco and right through the Golden Gate to the Pacific beyond?
Two gardens are inviting places to stroll alone or with families: The University of California Botanical Gardens at Berkeley and the city-owned and maintained Berkeley Rose Garden. For that matter, a drive around most Berkeley neighborhoods will impress with its fantastic blooming landscapes and gardens.
Up top the Berkeley Hills is the Tilden Regional Park, one in a string of parks managd by East Bay Regional Park District, extending north and south along the hills. At over 2,000 acres, Tilden Park features a golf course, nature area, swimming lake, botanic garden, a 1911 Merry-Go-Round, miniature steam trains, ice cream stand, Inspiration Point scenic overlook (dang, it clouded in just as I got there), and loads of trails and paths for hikers, bikers and horses.
The Marina and Cesar Chavez Park. A great spot for walks and views of the Bay, the City, and the bridges.
University of California Berkeley Community
Berkeley and the University of California Berkeley are inextricably linked. The town, in fact, developed along with the campus, which was named for the philosopher George Berkeley when it was established 1868. Berkeley is the first campus in the UC system and, by any measure, is one of the top universities in the country. It has an undergraduate student body of about 40,000 and another 15-20,000 graduate students.
Campus activities and the international aspect of the UC Berkeley student body and community inject the city with full calendars, international foods and shops, interesting neighborhoods, and lively conversations covering science, arts, politics and the day's headlines. Both the Berkeley campus and city have become synonymous with free speech, progressive views, and activism.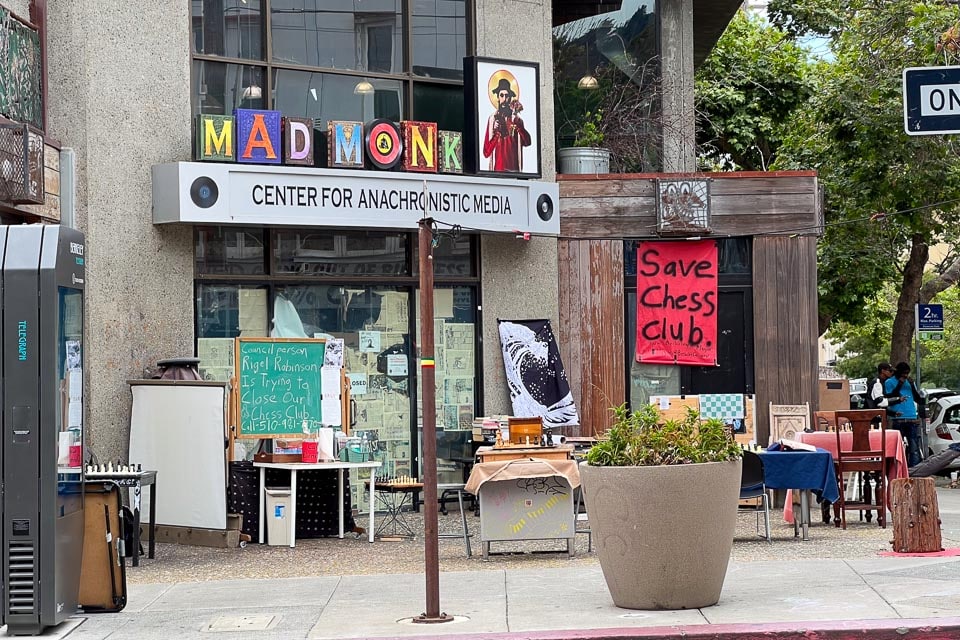 It's refreshing to visit a college town of this sort, bursting with ideas and promoting events and discussion through good ol' fashioned posters, news journals, and canvassing. Thanks to the UC Berkeley campus, the city is young, vibrant, and quirky, as evidenced by this sampling of Berkeley institutions and neighborhoods.
Moe's Bookstore. This store on the legendary Telegraph Avenue is as much an icon of the city as the campus Campanile that shows up on every Berkeley B-roll. 4 floors, 150,000 books, and everything from the art and antiquarian selection on the 4th floor to songbooks and, um, more pedestrian titles like "Berkeley Walks."
Amoeba Music The world's largest independent music store, or so they say. Definitely one of the biggest collections of vinyl we've seen besides our own dear Electric Fetus in Minneapolis.Also live shows and merchandise.
Cheap eateries. One reason we head to university neighborhoods when we travel is to find great inexpensive international food and local hangouts. On Telegraph Avenue, the sandwich and lunch spots flourish. Just see the queue outside Mezzo at midday.
Berkeleyside. A strong college town requires a strong strain of journalism. Over the years, Berkeley was know for is strong counter-culture rags and its ardent weeklies. Today, some of the best East Bay journalism appears on Berkeleyside.org. Arts and restaurant coverage here might help you sort through your options while visiting.
And then, just walking around campus and nearby neighborhoods brings plenty of prompts about college life, California over the past century, and the Berkeley vibe: a shop window dedicated to electronic relics; a rock concert poster and pop culture gallery with rare comics* and sports cards, too; a VW bus parked at the curb and packed to the gills; energetic young people stopping passers-by to ask if they are registered to vote; a small but noticeable protest by a handful of chess players, decrying the campaign to move them off "their" corner.
*Zap Comix No. 1: "Mr Natural Visits the City" "Fair Warning: For Adult Intellectuals Only" (35 cents)
There's always something to see and always a cause to take up, and that keeps Berkeley cool.
Access to San Francisco and Getting Around
Getting into San Francisco is easy via BART, which has three Berkeley stations (Ashby, Downtown and North). The Downtown Berkeley BART station is surrounded by hotel and restaurant options. To ride to San Francisco's Civic Center, for example, takes about 20 minutes and costs two to three dollars, per one of our favorite transit apps, Rome2Rio.
Driving from Berkeley to the City is easy, too, following I-580/I-80 and the Bay Bridge. Tolls into San Francisco on the Bay Bridge are $7, higher via the Golden Gate. In any case, most rental cars will carry FastPass devices so you can breeze through the tolls and pay later via your rental car company.
Arriving at your Berkeley base camp by air? You have lots of options flying commercial into San Francisco SFO or Oakland OAK (or even San Jose if your travels might take you south. Just find which airport has the best schedules for your favorite airlines or starting point.
Access to Wine Country
Who hasn't contemplated a retreat to Napa, Sonoma, or other gems in the wine country just north of the Bay Area? Berkeley as base camp will help you find more affordable accommodations and more things to do besides sitting in the vineyard. Arrive in Napa in less than an hour driving, enjoy the day, and return to Berkeley for some evening entertainment.
Access to Silicon Valley and Businesses Around the Bay
If you are headed to Silicon Valley/San Jose, just drive south about an hour. Going to Palo Alto? Also about an hour, with options of taking 101 through the City, or 880 and 84 crossing the Dumbarton Bridge. You get the idea.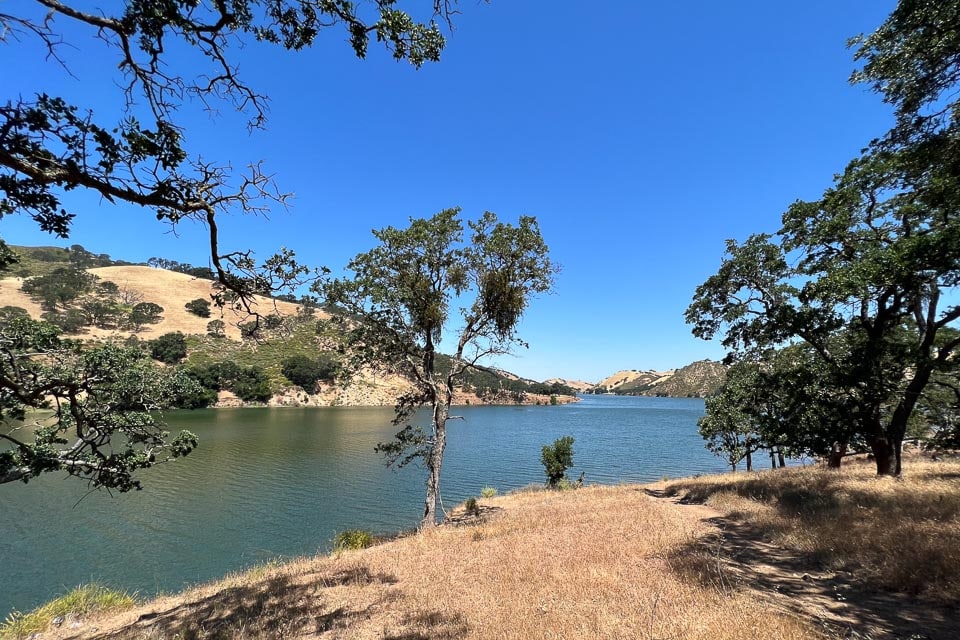 Access to Tri-Valley and National Parks and Historic Sites
To the east of Oakland is another great destination for Bay Area visitors and residents: Tri-Valley. It's home to one of California's oldest wine regions, to sunny outdoor recreation areas, nice restaurants and dozens of good hotels. Look for our upcoming post about visiting the Tri-Valley area, comprised of the towns of Livermore, Pleasanton, Dublin and Danville. This is on the way to Yosemite and makes a great stopover for national park visitors or for Bay Area residents looking for a change of scenery.
We've visited most of California's nine National Parks. For more posts National Parks, state by state, see this Travel Past 50 National Parks page.
While visiting Berkeley and Tri-Valley areas, we enjoyed seeing some historic sites, and quickly built a list of additional places we'd like to line up for our next itinerary. Base camp Berkeley is ready to help you get settled in so you can really enjoy these easy day trips to historic sites.
Eugene O'Neill National Historic Site. Access from Danville, California.
Rosie the Riveter/WWII Home Front National Historic Park. Richmond, California.
Muir Woods National Monument* Parking reservations required. This is in the Mill Valley area north of San Francisco and part of the Golden Gate National Recreation Area.
John Muir National Historic Site. Not to be confused with Muir Woods, this historic site is in Martinez, Contra Costa County, California
Fort Point National Historic Site. Located on the south side of the Golden Gate Bridge, and also part of Golden Gate NRA.
Golden Gate National Recreation Area is also a UNESCO Biosphere Reserve – the only Reserve to combine land, water and urban features. Alcatraz Island is among the GGNRA's featured sites, too. Plan your various visits in the Golden Gate National Recreation Area here.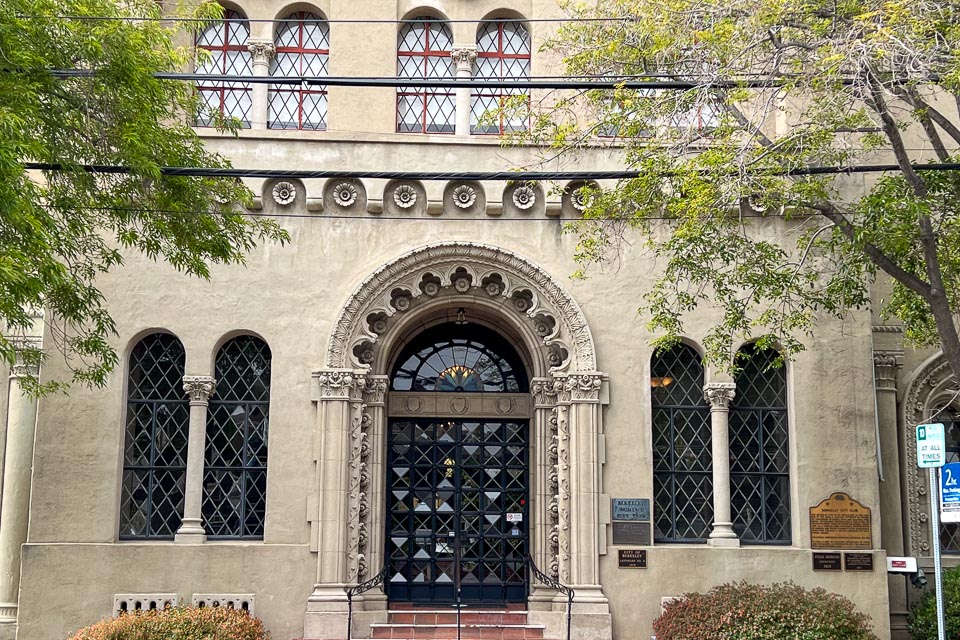 Berkeley Base Camp: Places to Stay
Make yourself comfortable. You have Berkeley and all of the Bay Area to explore from one convenient location.
Berkeley City Club, the historic 1930 hotel design by famed architect Julia Morgan, the groundbreaking San Franciscan who designed over 700 buildings including Hearst Castle and this, her "Little Castle". Includes a swimming pool, library, patio, gorgeous event spaces, lovely breakfasts, and a cozy sophisticated bar, Morgan's Bar and Lounge. Guest rooms are simple, but if you're lucky, you can look out from your 6th floor room to the City.
Hotel Shattuck Plaza. Close to BART and to the UC Berkeley campus. The hotel opened in 1910 here in this classic Mission-style building on the National Register of Historic Places. Since then, several expansions, remodeling, and the updated Mediterranean restaurant and bar.
Residence Inn by Marriott Berkeley. The tallest building in Berkeley and near the Downtown BART station, so this should be easy to find. Check out the rooftop lounge.
The Graduate Berkeley. Geared to the University crowd, it's lux and Bohemian and close to campus.
The Aiden by Best Western @Berkeley. Convenient and with plug-ins for your electric car.
Doubletree Hilton Berkeley Marina. Get down to the water and views of the City and Golden Gate Bridge. The large Boathouse Restaurant here is a good place to start (or end) the day, so you may as well get a room.
When to visit Berkeley
Two factors may dictate your travel dates to Berkeley: climate and student population. Most of my visits have been in the summer, when UC Berkeley classes are not in session. It's easier to find hotel rooms and restaurant tables when students and faculty aren't around. But don't be afraid to take advantage of the ongoing performance calendars to visit when the cultural offerings suit you most.
Berkeley's climate is similar to a Mediterranean climate, with cooler and wetter winters and warmer and sunnier summers. Still, with the effect of the Bay and coastal fog, Berkeley maintains its cool all year round. For those of us from the cold North, the green colors and moist air are a draw in even winter. For those from the U.S. South and Southwest fleeing the unbearably hot days of summer, Berkeley is an excellent antidote.
Winter highs are in the mid 50s to low 60s on average; summer highs are usually in the 70s to low 80s.
Footnote
In other words, Berkeley is accommodating year round. Enjoy the mix of excellent food, abundant culture, stunning views, pleasant outdoor activities, and access to all the city and Bay Area have to offer.
Many of us outside of California forget how large a state it is. Just check out the Visit California website to remind yourself that itineraries in the state might include mountains, coast, woods, islands, major metro areas, National Parks, UNESCO World Heritage Sites, so many colleges and universities, and enough arts and culture to supply the state's population and then some.
Hmmmm, and all those attractions are found right in and around Berkeley, too. Enjoy.
When you're thinking of traveling, your first stop should be our Travel Resources page, where we list all the essentials you need to make your travels easier, cheaper, safer, and more fun.
We love traveling–with the right gear. We've gathered a lot of the stuff we use to make travel more pleasant and efficient all on one page. Shop our Travel Past 50 Amazon page to find our favorite gear. If you purchase something from the store, Travel Past 50, as an Amazon affiliate, may receive a small commission at no extra charge to you. Thanks.
We never leave home without our travel insurance. Nor should you. Search for the travel insurance from Allianz that best meets your needs, whether it be an annual plan or a single trip.
You can see (and buy prints) of most of our travel photos in one place on this page.
Note: This post and other posts on TravelPast50.com may contain paid or affiliate advertising links. As an Amazon Associate we earn from qualifying purchases.
News
Betty Spears needed help with her medication management. She also simply wanted a kind word. She got both from…