161 total views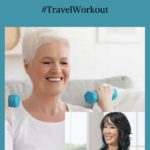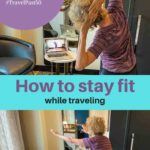 There's no doubt our health has benefited from all our travels over the past decade. We're practiced at adapting to change and new environments, we're in better shape physically than we would be without the extensive walking we do, and we remain curious and interested in trying new things.
We're grateful travel has kept us moving. But we know we need to keep moving to continue enjoying pain and injury-free travels.
To read more about the benefits of travel and what we've learned over our past decade of travel, check out these posts.
Ten Years Traveling: Our anniversary tips and insights
20 Reasons We Keep On Traveling
Understandably, we've all suffered setbacks over the past pandemic months due to isolation, lack of exercise, and allowing extra pounds to accumulate on our aging frames. Feeling hopeful about getting out again, we wrote last January about using Silver&Fit online exercise programs to get in shape for travel. We found a range of options for all levels and appreciated that the programs were easily accessible from home while gyms and clubs were closed. Just find Silver&Fit on Facebook or on YouTube.
Why exercise while traveling
Now we are taking baby steps into travel again and learning how our bodies are handling it. Travel is famous for both long sessions of sitting and sudden bursts of activity, whether that is walking, paddling, biking or hop-skip-and-jumping. Traveling can be a jolt for the body.
Our recent trips, for example, have included nature hikes in our home state of Minnesota and a fun city visit to Milwaukee. City tourism, for us, means tons of walking, and the walking can be even tougher on sidewalks than in the woods. One day in downtown Minneapolis recently, we reached more than 19,000 steps covering almost ten miles – all within range of our hotel.
If we get so much exercise while we're traveling, why do we need fitness sessions? Well, to balance these travel extremes of endless sitting with physical exertion, we use our hotel time and a few trusted tricks to care for our bodies. Just talk to any Olympic athlete, trainer, or me (!) to remind yourself that rest and recovery are essential to high performance.
So, now that we're traveling again, we're revisiting the Silver&Fit online classes with slightly different intentions. We're no longer seeking the 'get-in-shape' options like aerobics and strengthening. We just want some good stretching, soothing movement, and the reassurance that we can get out there again tomorrow for more fun adventures.
Tips for exercising on the road
Yes, we sometimes use hotel gyms, especially if we're involved in day-long conference meetings. More often, though, we use our hotel room for stretching, soaking, and relaxation, considering that the more hardcore exercise fills our days outside the hotel.
When you resume travel, we know you'll want to build in good habits to stay fit, prevent injuries, and ease muscle aches and pains. Keep in mind:
Motivation. Though it might be easy to blow off a little stretching routine when you are traveling, remind yourself of your health goals. They can be simple, but it's important to know why you want to exercise: to feel good, to keep traveling, to keep up with the grandkids, to minimize pain, to live longer: your personal goals. Silver&Fit's daily live classes are great motivation to continue on a regular regime.
Space. We've used this excuse, that there's no space to exercise in a hotel room. Uh-uh. It's quite simple. If your hotel room is the size of a single bed, you can stretch before you get out of bed in the morning. If you do have the luxury of some floor space, spread a bath towel on the floor as your 'yoga mat'. Just creating the space acknowledges your intent. (You're welcome.) Silver&Fit At Home is all about convenience wherever you are, even if you want to exercise from your chair.
Convenience. We appreciate that Silver&Fit sessions can be practiced live or on demand. For starters, check out the daily live programming on either Facebook or YouTube. Since you are in the privacy of your own home, or hotel room, there's nothing saying you can't try an assortment of daily classes and see what you like at the end of a week. Put a live session on your calendar each day for one week; there are nine live classes a day, six days a week.
Fitness Level. Or if your schedule demands more flexibility, you can pick and choose your programs, on demand. My main considerations are time and intensity. Do I want to focus on my breath, stretching, strength, or aerobic exercise? Follow your intuition, no matter what side of the single bed you woke up on. Recent Silver&Fit offerings include, for example, beginner, intermediate and advanced sessions of Tai Chi, yoga, stretching, strengthening, cardio, dance, flexibility and balance, and mixed classes.
Online on-demand sessions, of course, also mean you can eliminate that pesky commute time that may interfere with your routine.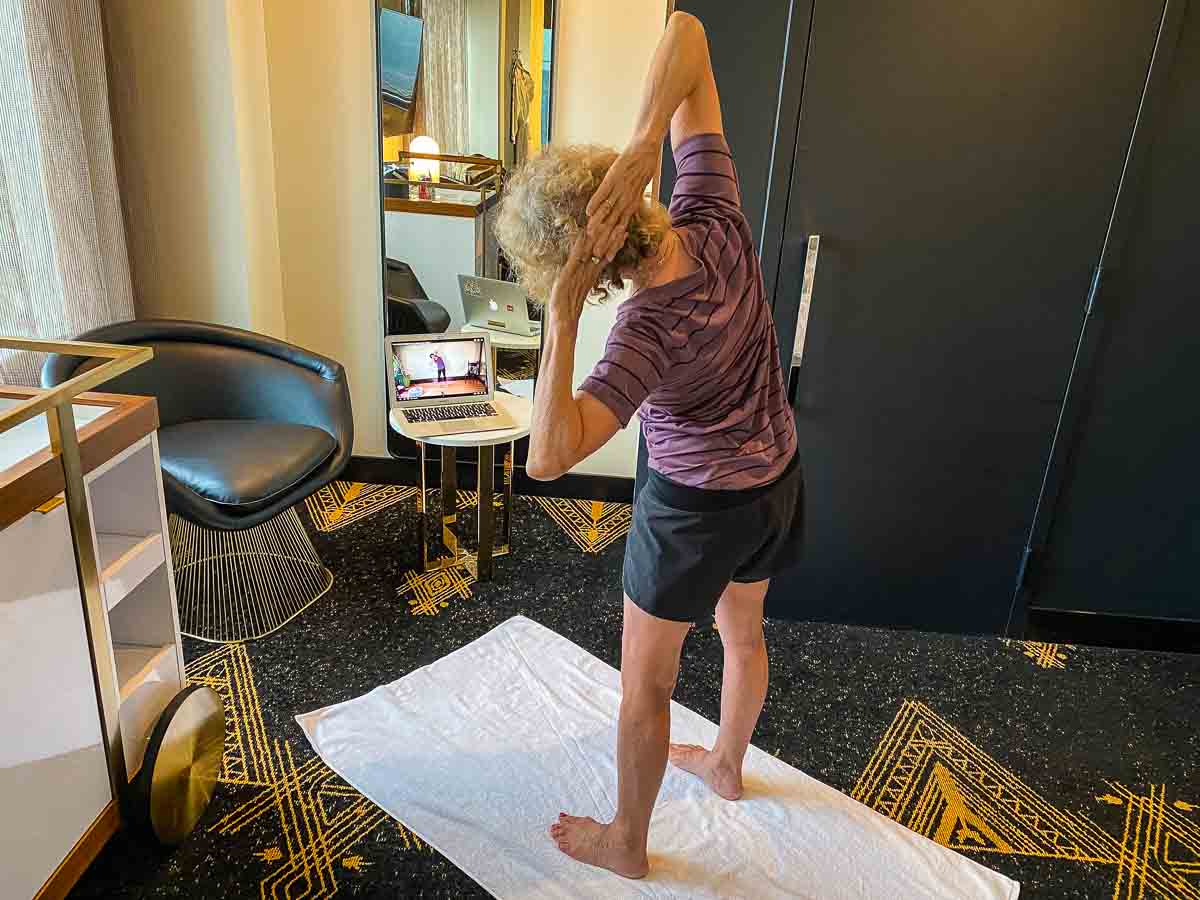 More Travel Past 50 pointers for feeling fit and pain-free on the road
Drink water. Before, during and after your workout.
Soak your feet. Tired feet love to be pampered. The Camino de Santiago pilgrimage taught us to care for our feet as if they were fine musical instruments.
Travel with an ice bag. Any strong resealable bag will do, but we love the new Smelly Proof reusable bags that can handle melting ice, smelly foods, or wet clothes. For swollen knees or ankles, just fill your bag with ice from the hotel machine or the kind barkeep, preferably before the kitchen closes.
Elevate your legs. Use one of those extraneous hotel pillows – or your backpack – to prop under your knees.
Pack for comfort and safety. We don't pack a kettle bell or a yoga mat, but we've been known to pack stretchy bands, knee braces, sports tape and bandages, walking sticks, compression socks, comfy sandals for flopping around the hotel, and definitely, definitely, comfy loungewear. A well-worn T-shirt and gym shorts are always packed and at the ready.
Diet and exercise?! I know, now we're talking crazy. We've discovered, though, that our behavior around food and health is forever changed after using the NOOM app. Tom signed on first with a goal of losing weight, I followed, and we're both feeling and looking lighter. It turns out good habits are easy to pack for travel. You can use our 14-day free trial and special 20% discount if you want to check it out: Travel Past 50's NOOM offer.
Have fun and stay fit for happy travels.
Note: This post is sponsored by Silver&Fit, but you'll notice we always write from our personal experience and voice. By the way, all these online classes are free to use.
You can help yourself get ready for your own travels by reading our Get Started Planning Your Trip Now page.We love traveling–with the right gear. We've gathered a lot of the stuff we use to make travel more pleasant and efficient all on one page. Shop our Travel Past 50 Amazon page to find our favorite gear. If you purchase something from the store, Travel Past 50, as an Amazon affiliate, may receive a small commission at no extra charge to you. Thanks.
We never leave home without our travel insurance. Nor should you. Search for the travel insurance from Allianz that best meets your needs, whether it be an annual plan or a single trip.
You can see (and buy prints) of most of our travel photos in one place on this page.
Note: This post and other posts on TravelPast50.com may contain paid or affiliate advertising links.
Get all our travel tips delivered to your inbox
Subscribe to our email newsletter
News
Some of the emails I receive are heartbreaking. They typically read something like this… It would be easy for…