28 total views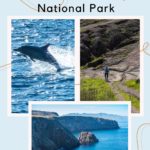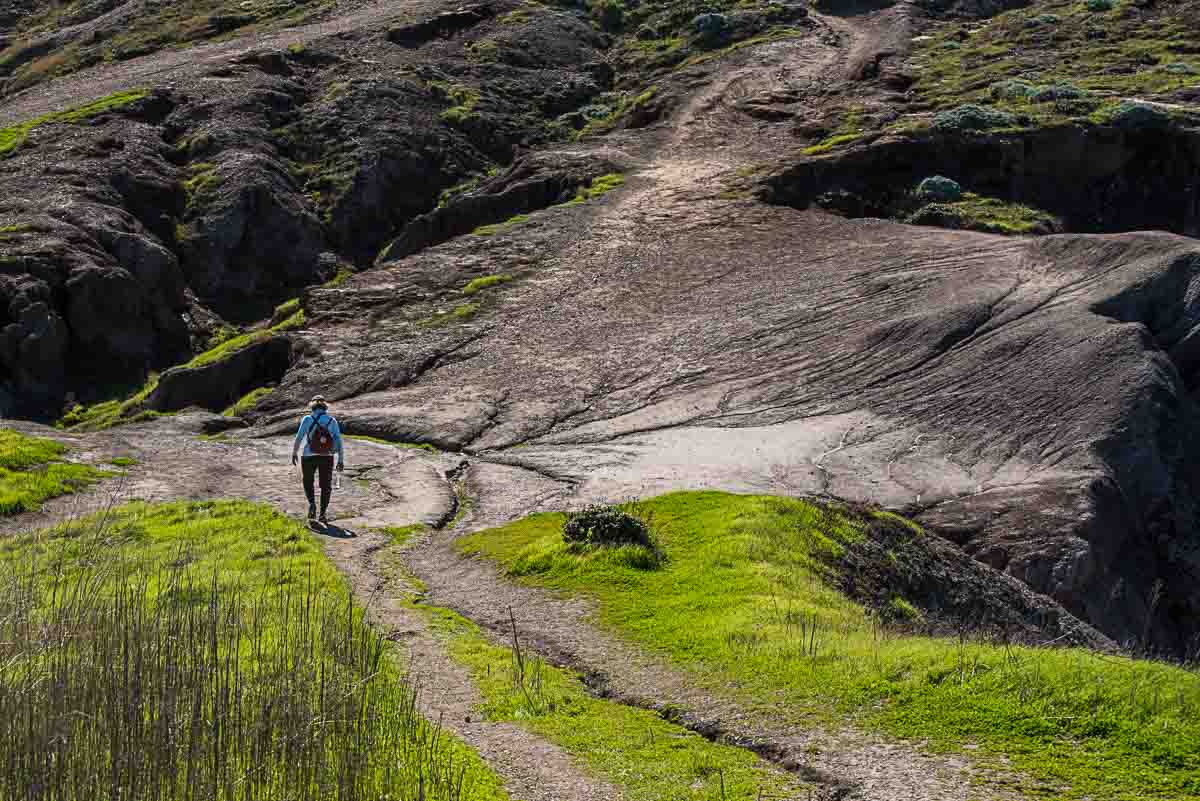 Channel Islands National Park, sometimes called the Galapagos of North America, is truly one of the joys of the US National Park system, because even though it's located off the coast of Southern California, it's a bit difficult to get to. Which is to say, you can't drive there. And to most Southern Californians, if you can't drive there, it doesn't really exist.
So, a park that doesn't really exist for the masses is our kind of park. That's why we went out of our way to get there.
Since we only had one day, we chose to visit the most accessible island, Santa Cruz Island, via an Island Packers Cruises boat from Ventura. (See below for more details.)
It was easy to book with Island Packers ferry company online. They advised showing up 45 minutes before our scheduled sailing time of 9 a.m. and since we had left our lodgings in Los Angeles in plenty of time, we had almost an hour to kill before 8:15, which we spent in a local cafe having breakfast. (Harbor Cove Cafe, located next to the Channel Islands National Park Visitor Center, opened at 7:30.) When we showed up at Island Packers at 8:15, the place was already hopping. By the time we checked in and arranged our day packs, the line to board was already lengthening. So, we ended up with an interior seat on the boat. That didn't preclude, though, being able to go out on deck for a view during the one-hour trip.
And, you'll definitely want to go out on deck because there's a very good chance that you'll see hundreds of dolphins leaping joyfully out of the water alongside the boat. The dolphins are protected in the Santa Barbara channel between Ventura and the islands as part of the Channel Islands National Marine Sanctuary. You're going to be thrilled to see them. If you are extremely lucky, you might also see humpback whales, gray whales, or even a blue whale.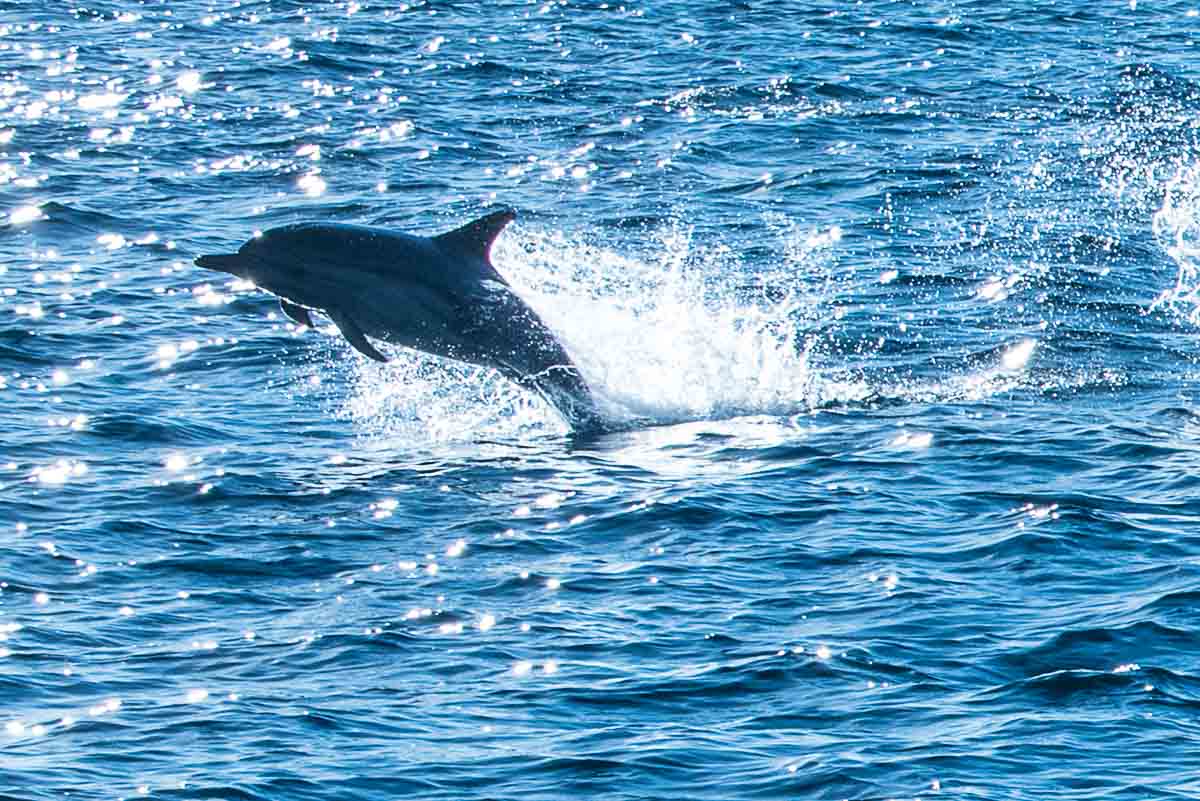 What to do on Santa Cruz
Once you get to Santa Cruz, you have a few choices of things to do. There's snorkeling, sea kayaking, and hiking. Kayaking can be arranged in advance through Santa Barbara Adventure Company. They can also handle your transport to the islands on Island Packers if you haven't already done so. Snorkeling is via Channel Islands Adventure Company. They have a kiosk on the island, but it's better to arrange in advance.
You can also camp on Santa Cruz, with a permit from the National Park Service. Beware you'll be carrying all your camping gear about half a mile from the boat landing to the campgrounds. Santa Cruz has some of the better equipped campgrounds of the islands, with toilets, picnic tables, and potable water. Other islands don't necessarily have those facilities. Be sure to check your chosen island's amenities on the Channel Islands National Park website and be prepared. None of the islands have anywhere to buy any food or other supplies, so be sure you do your research and have all you need. Also, be aware there are no trash bins on the island. Everything you bring in, including your garbage, must be packed out.
Camping is probably a good choice if you really want to explore the island and do more than one activity. If you do the boat day trip, you'll only have about five and a half hours on the island. Plenty of time for a nice hike or kayak trip to see the kelp forests and sea caves, but not both.
We opted for the hike.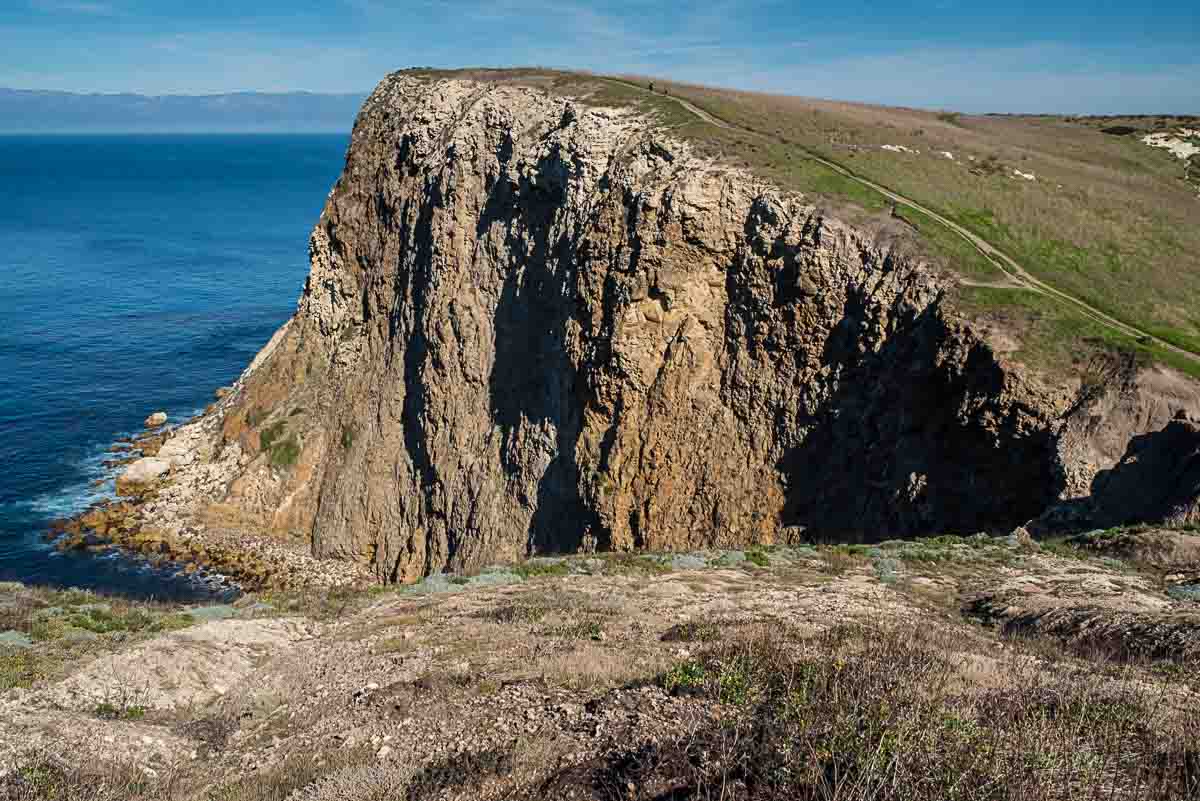 Hiking on eastern Santa Cruz
Normally, you'll be met on the beach right after getting off the ferry by an official National Park volunteer. We were graced by Catherine, who has been volunteering on the Channel Islands for 20 years. We started with a ten-minute introduction to all aspects of the island, including its history and ecology, its coterie of marine mammals.
As is evident from the ruined buildings and equipment just a hundred yards from the landing area, Santa Cruz was once farmed. And to the trained eye of Catherine, the evidence extends far beyond just the remaining detritus.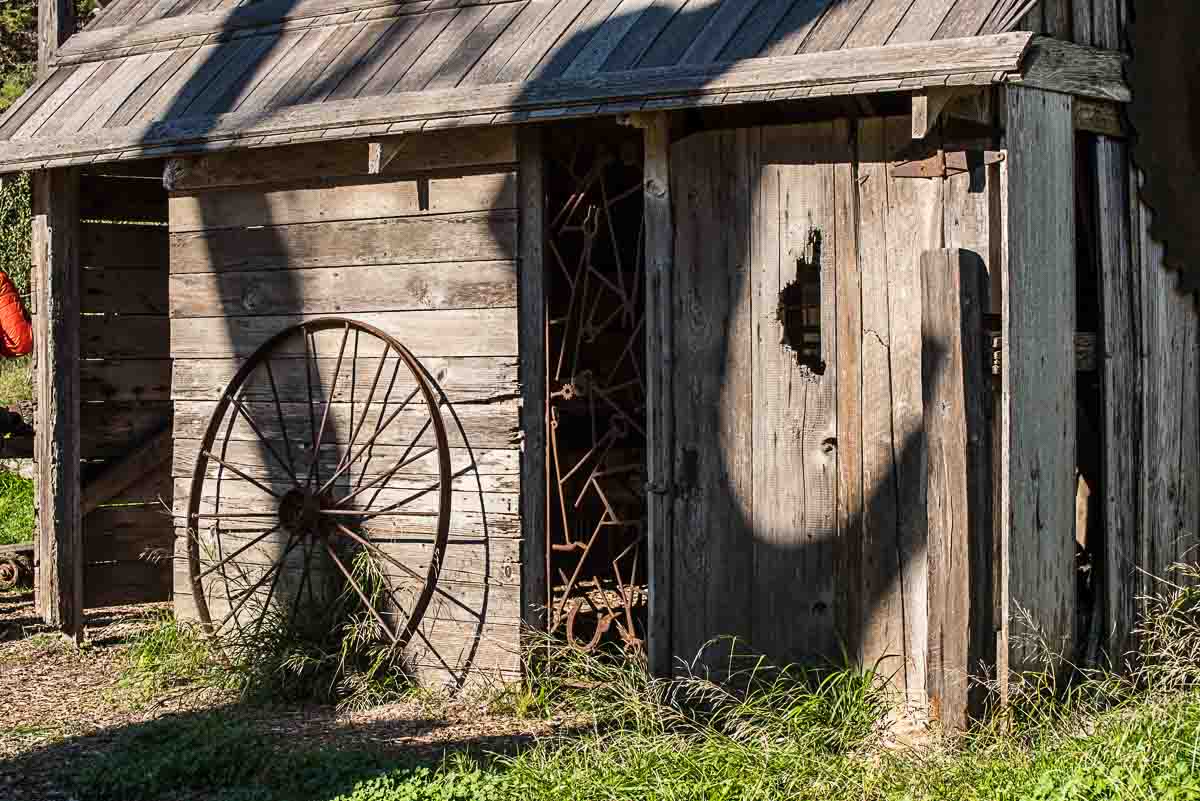 The grazing sheep and cattle over a period of more than 100 years significantly changed the native ground cover, especially because those animals were left behind on the island when the farm was abandoned. More damaging still were pigs imported to the island to feed the farmers. These also were left behind. Pigs quickly turn feral when not confined and can do tremendous damage to endemic species of plants and animals. The sheep and pigs had to be professionally hunted off the island – a process which took several years.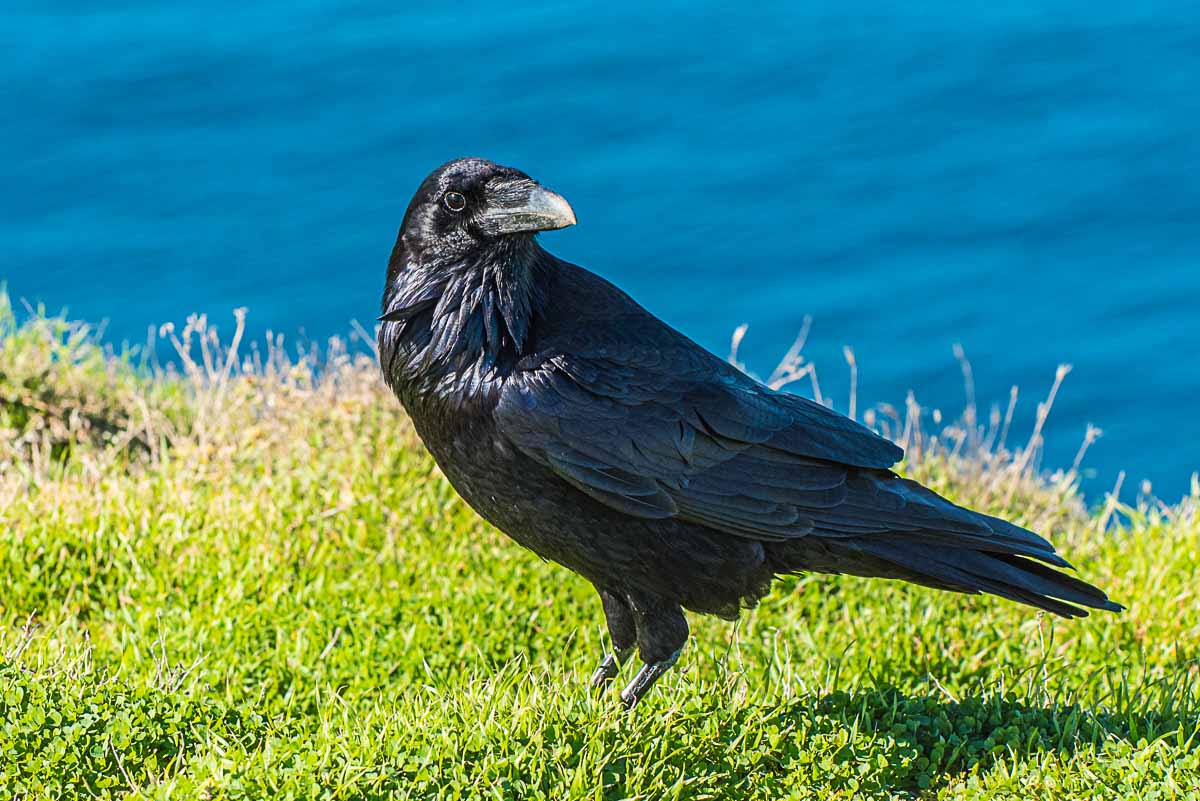 Oddly, another invasive species that had to be removed from the island were golden eagles. They had been attracted to the island to feed, believe it or not, on baby pigs. Unfortunately, because the baby pigs provided a critical mass of food to attract the eagles, the eagles also began to seriously threaten the endemic population of small island foxes. The golden eagles could not be hunted because of their protected status as an endangered species. They had to be netted using helicopters, and that process also took several years. Since the relocation of the golden eagles, bald eagles have been reintroduced to the northern Channel Islands.
Since the elimination of the non-native species, the native island foxes and ravens have returned in abundance.
All of this info we got from the knowledgeable Catherine as we hiked about one mile up the hill from the beach to the overlook at Cavern Point.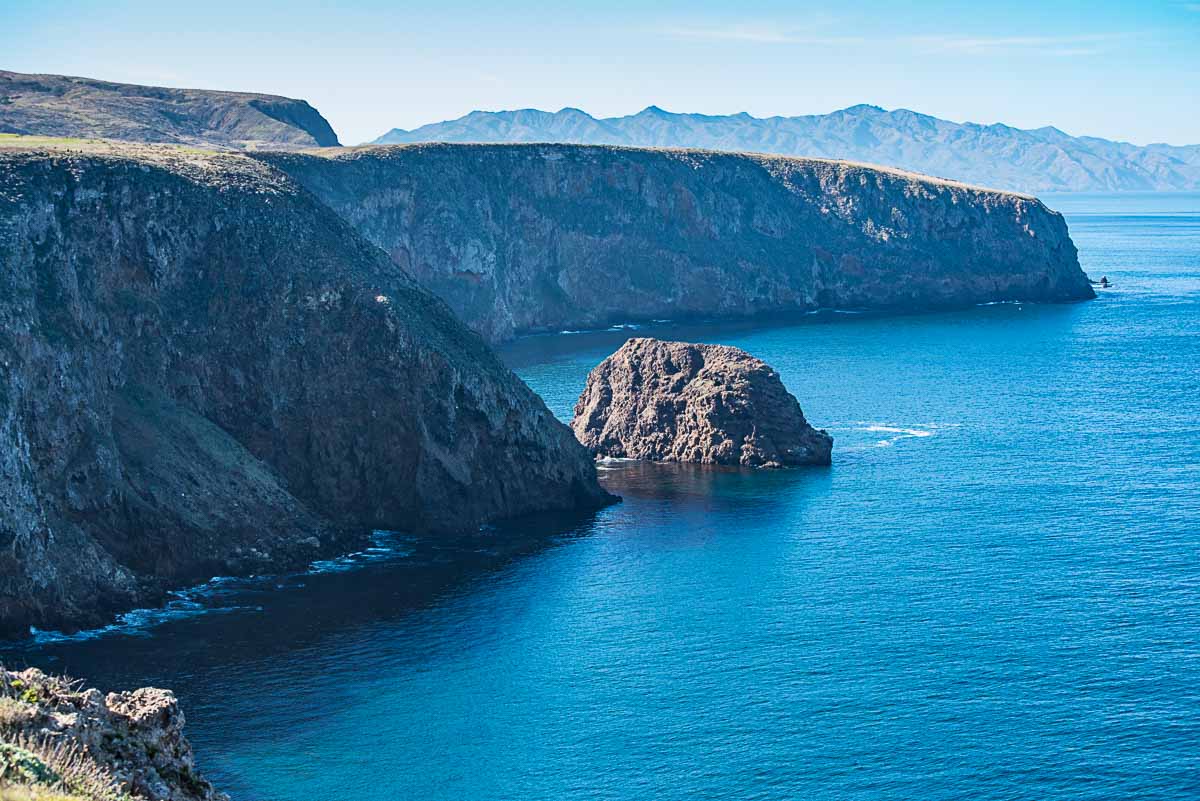 Catherine left us at Cavern Point and we decided to continue along the coastal rim to the next named stopping point at Potato Harbor, another couple of miles down the path. The hike led downhill from Cavern Point a bit, and then up again to a coastal meadow which continued almost level all the way to Potato Harbor. In all, the hike from the beach to Cavern Point, on to Potato Harbor, and then back to the picnic area at the bottom of the bluffs was about five miles. With plenty of stops to shoot photos and listen to Catherine's expert commentary, the trip took around three hours.
Be aware that you'll need to bring plenty of water on the hike. Even though we were there in January and the temperature was only about 70 degrees Fahrenheit (21C), there is absolutely no shade on the Potato Harbor route and the sun can be intense. Be sure you have a good hat and sun screen in addition to the water. We ran into a few swarms of gnats, too, so you might also want bug repellent. In our quickly formed opinion, though, the winter months are the best time to visit the Channel Islands to minimize the crowds more common in the summer months. And, the winter weather conditions are ideal for a long hike.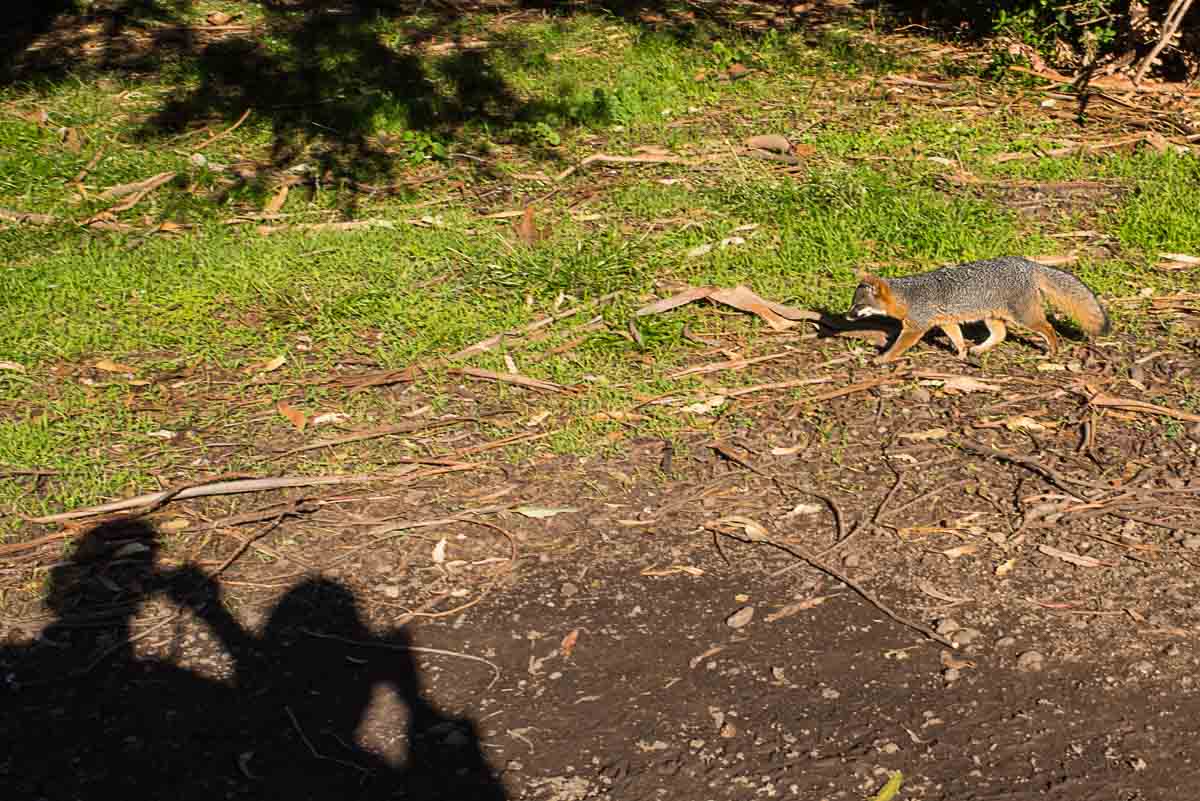 If you do the hike, allow a little time to get back and spend some time at the small interpretive center, which has interesting information on the history, geology, and environment of the islands. The actual Channel Islands National Park visitor center, which has lots more info, is on shore at Ventura Harbor, down the street a bit from the Island Packers dock.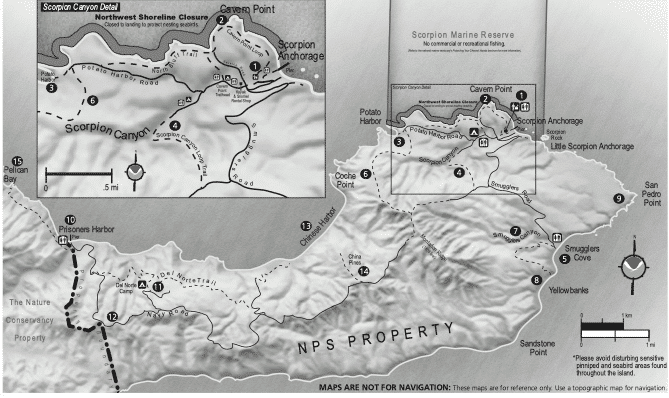 Or you can download the full version of the Santa Cruz hiking map.
Note that the Scorpion Anchorage, where we landed, is likely to be closed for construction until mid 2020. During that time, landings will be made farther to the west at Prisoner's Harbor. There are several hiking trails that lead off from there.
Before you to to the Channel Islands, be sure to check the Channel Island National Park web site, because the information on the park is constantly changing. Note: the Channel Islands are almost unique among the National Parks in that no entrance fees are charged.
How to get to Channel Islands National Park
Driving is inevitable in Southern California, so yes, we drove from where we were staying in Los Angeles up the freeways for about an hour to get to Ventura, the primary Channel Islands jumping off point from the Southern California coast. (BTW, if you're going to do that drive to catch the boat to the park, start before 6 a.m., or you're going to do a lot of sitting in traffic.) You actually get to the islands by taking a the official Channel Islands National Park ferry run by Island Packers Cruises. Depending on the season, they run frequent ferries to Santa Cruz (the most visited island of the archipelago) and the other islands as well, but less frequently.
Round trip fares vary from about $85 per person to about $60 per person, depending on the island you're going to. There a discounts for children (under 12) and seniors (over 55). Charges are a bit higher if you plan to camp on the island over night and come back the next day.
This would be a good time to mention that the National Park is actually made up of five islands: Anacapa Island, Santa Cruz Island, Santa Rosa Island, San Miguel Island, and Santa Barbara Island. All of them are reachable by Island Packers boats. The most remote islands, San Miguel and Santa Rosa, are also accessible by small planes flown by Channel Islands Aviation, who can also arrange tours and camping. Minimum charge for a flight is $1200, and the planes hold up to eight people.
Other US National Parks in California
California has the most National Parks of any state, with nine: Channel Islands, Death Valley, Joshua Tree, Kings Canyon, Lassen Volcanic, Pinnacles, Redwood, Sequoia, and Yosemite. Channel Islands, Death Valley, Joshua Tree, and Sequoia are all within half a day's drive from Los Angeles.
You can see our list of all sites managed by the United States National Park Service, including links to our stories about the ones we've visited.

This is an update of a post originally published in January 2020.
When you're thinking of traveling, your first stop should be our Travel Resources page, where we list all the essentials you need to make your travels easier, cheaper, safer, and more fun.
We love traveling–with the right gear. We've gathered a lot of the stuff we use to make travel more pleasant and efficient all on one page. Shop our Travel Past 50 Amazon page to find our favorite gear. If you purchase something from the store, Travel Past 50, as an Amazon affiliate, may receive a small commission at no extra charge to you. Thanks.
We never leave home without our travel insurance. Nor should you. Search for the travel insurance from Allianz that best meets your needs, whether it be an annual plan or a single trip.
Note: This post and other posts on TravelPast50.com may contain paid or affiliate advertising links. As an Amazon Associate we earn from qualifying purchases.
News
The beauty of a curvy road through forests, without intersections. Note: This is a November 2023 update of a…