145 total views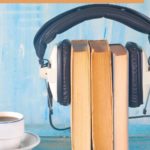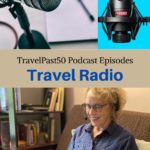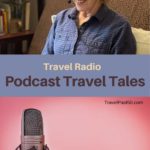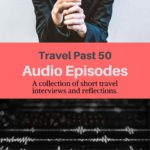 Note: This post was originally published in May 2020 as a compendium of reports that date back to 2017. We've updated the post most recently in August 2022.
Over the past several years of traveling, we've been lucky not only to see so many spectacular places, but to hear fascinating stories from those we've met along the way. Among the fortuitous meetings was our virtual connection with Graeme Kemlo of Travel Writers Radio out of Melbourne, Australia.
We got to talkin'…and have now contributed dozens of podcast stories for travel radio, broadcast on JAIR radio in Melbourne and archived on Soundcloud. In some cases, we've been interviewed about our experiences for firsthand reporting. In other cases, we are conducting the interviews ourselves and filing the reports with the station.
Expect this post to be continually updated with new recordings, preferably in an easier to consume format. For now, you can pick and choose to listen to each segment, one at a time. Where appropriate, links to related stories appear here, and those stories often include the audio file, too.
Note: To listen to continuous episodes of our Travel Writer Radio reports, visit Kristin Henning's user page on Soundcloud. To select specific episodes, see below.
Reporting for Travel Writers Radio
August 2022
Brand new expedition-style cruising, combining luxury amenities and service aboard a working scientific research vessel, is the topic of the conversation with Graeme Kemlo (based in Melbourne, Australia). Kris reports on Viking Octantis's Great Lakes options as well as its longitudinal itineraries connecting to Antarctica. Read the related post about the Octantis expedition ship here, and about the Great Lakes destinations in U.S. and Canada here.
June 2022
We chat with Graeme at Travel Writers Radio about the great food along Spain's north, loosely following the Camino del Norte from Cantabria across Asturias and to Santiago de Compostela in Galicia. Read more about the full travel experience in The Northern Way to Santiago.
May 2022
Visiting family in Nairobi, Kenya, led to two wonderful photo safaris. Here we chat with Travel Writers Radio about our multi-gen experience in the Mara North Conservancy bordering the famous Maasai Mara National Park. Read more about the Mara safari here, and about what we did and saw (and ate) in Nairobi, here.
November 2021
While visiting Zaragoza (Aragon) Spain, we joined Jorge Acero for a cooking class and an intro to the excellent gastronomy of Aragon. You'll find the recipe for tortilla española in this post which also recaps our interview. Buen provecho!
June 2021
We chat with Travel Writers Radio about Beyond the Nest retreats and digital nomad resources for all ages. See our post for more information on Beyond the Nest retreats.
April 2021
Leif Pettersen talks about his latest book, The First (Failed) Travel Food Show, his career as a travel writer and marketer, the state of travel, living in Romania, and his hobby juggling. For the full uninterrupted interview with more background info, see our post: Interview, Leif Pettersen and the First Food Travel Show. . The same interview was posted on SoundCloud in two parts by Travel Writers Radio:
March 4, 2021
An interview with Brian Montgomery about his Sirenian Bay Resort in Belize, and coming through the pandemic with property improvements and more highly trained staff.
November 3, 2020
Speaking with TWR's Graeme Kemlo about the USA election 2020, just as polls are closing in the eastern half of the country.
August 7, 2020
Lauren Aloise, Devour Tours
Normally, Madrid-based Lauren Aloise operates food tours in eight European cities. These days, she's seeing the increased popularity of her food blog, Spanish Sabores. The blog and its regular newsletter are filled with recipes from around Spain, and spiced up with stories about Spain's history and culture and destinations. Read more about Lauren and our favorite Spanish cuisine here.
July 29, 2020
Iceland ProTravel CEO Gudmundur Kjartansson
Since we aren't able to circumnavigate Iceland this year as planned, we spoke with Iceland ProTravel CEO Gudmundur Kjartansson about the current and future state of tourism in Iceland.
July 17, 2020
Discussing how to plan for safe road trips, a la 2020.
May 27, 2020
Caroline and Craig Makepeace of YTravelBlog, Australians living in U.S.
Here's a travel story that gets to the essence of travel, even when the experiences are right in your home area or otherwise impacted by the pandemic. Australian couple Caroline and Craig Makepeace have been traveling for the better part of 20 years, and manage the award-winning blog called YTravelblog.com. Craig and Caz talked with us from their home in Raleigh, NC. Their recent projects include a major RV road trip across America with their two daughters. Since getting green cards in the US last fall, and entering the coronavirus era, their current travel world involves online schooling, a focus on travel closer to home, a new podcast, and the launch of a new website, ThisisRaleigh.com.
May 13, 2020
Cedar Swan of Adventure Canada, Coastal Canada
Adventure Canada is a small adventure tour company started in the late 1980s by brothers Matthew and Bill Swan and their friend Dave Freeze. While it originated as guided travel to remote wilderness areas and concentrated on rafting and hiking, it evolved over the next decade to exploration of Canada's three coasts, its Arctic and native communities, and eventually to sailings beyond.
Adventure Canada is now chiefly a small ship adventure company with an emphasis on arts and culture and connecting communities. The 2020 season, before it was held up by the coronavirus pandemic, included expeditions throughout Arctic Canada, through the Northwest Passage, to Greenland, Iceland, and– in the alternate season–to Antarctica.
Today, Adventure Canada is still a family business at heart (nearly a 1/3 of the company's 25 employees are involved family members). Add to that more than a hundred personnel selected for their expertise and familiarity with local cultures, and you can see how the company acts on its commitment to personal relationships.
When speaking of the importance of overseeing her company's reputation, Cedar mentioned the company offered full refunds to all its passengers booked for the cancelled 2020 season. In a sign of good faith, more than 40% of those passengers decided to roll their deposits over to next season.
April 29 and May 6, 2020
Part 1 Anne and Mike Howard of Honeytrek.com in RV Quarantine; Poland
Part 2 Anne and Mike Howard of Honeytrek.com in RV Quarantine; Poland
Mike and Anne Howard, the travel-writing American couple who are on "the world's longest honeymoon," found themselves confined to their rented camper RV in Poland during these days of the pandemic lockdown. Mike and Anne aren't exactly new to travel improvisation and making the most of a situation. Since setting out on their honeymoon in early 2012, they are still embracing travel, and each other. You can read all about Mike and Anne's adventures on their blog, Honeytrek.com. The two have also published two books in these eight years of travel: The first, "Ultimate Journeys for Two: Extraordinary Destinations on Every Continent," was published by Nat Geo Books. Then, three years ago, the Howards purchased an RV and covered North America to research the new glamping phenomena. Their second book, "Comfortably Wild: The Best Glamping Destinations in North America," was released in 2019.
April 2020
Jim Johnson on impact of coronovirus pandemic on BikeTours.com and small tour operators; USA and Europe
To read more about planning and preparing for a bike trip, read our post about arranging your first European bike tour.
March 2020
Trondheim by Boat tour with Captain Amanda; Trondheim, Norway
Skipper Amanda shows us the ropes and the best options for visiting Trondheim, Norway. Read more about Trondheim in our post about the city and environs, "Many Ways to Visit Trondheim."
March 2020
Mattias Janssen and St. Olav Ways pilgrim trails; Trondheim, Norway
Read another take on St. Olav Ways pilgrim routes in Tom's post from Sweden, "St. Olav's Way: Hiking in Sweden and Norway,", including a video interview about the history of the pilgrimage.
January 2020
Big Bend National Park, Texas, USA
Read more about our visit to Big Bend NP and the surrounding area in "Visiting the Big Bend Area of Texas."
2019
Bozeman, Montana, and Yellowstone National Park, USA
We cover our stay in Bozeman, Montana, in this post.
2019
Adirondacks Wilderness and Wellness, New York, USA
Read more about visiting the Adirondacks in our post.
2019
Lafayette, Louisiana: History, Zydeco, and Food; USA
Read about our Lafayette travels, with photos, in this post, "Lafayette, Louisiana: Easy Road Trip near New Orleans."
2019
Top Tips for a Short Visit to New Orleans, with John Boutte; USA
Read more here: "Let New Orleans Work Its Magic on You."
2019
UNESCO World Heritage Site Angkor Wat, Siem Reap, Cambodia
Read our travel planning tips for Siem Reap and Angkor Wat here.
2019
Return to Hanoi with family, Vietnam
Enjoy more stories and photos in our post, "Hanoi Revisited: Returning to Hanoi with a new generation."
2019
Mekong River Cruise from Cambodia to Vietnam
We write about our Mekong River Cruise with AmaWaterways right here.
2019
Ernest Hemingway in Cuba
Find more details about our travel to Cuba and its national parks in this post, "Cuba Vacations: Hiking National Parks in Cuba," and in this overview of places to stay and eat, "Cuba Tours: Food in Five Cuban Cities."
2019
Tiger Safari in India's Madhya Pradesh, India
Enjoy photos and details of our tiger safari in Madhya Pradesh, "An India Tiger Safari: What to Expect."
2018
Russia River Cruise: Moscow and St. Petersburg, Russia
Enjoy photos and retails of our Viking River Cruise in Russia: "Russia River Cruise: Moscow, St. Petersburg, and Waterways of the Tsars."
2018
On Slow Touring by E-Bike, Europe
We speak with Biketours.com's Jim Johnson about the appeal of touring by bicycle.
Read about our preparations for a bike tour in Italy here: "Planning Your First Europe Bike Tour." And here's our story of training for the tour..
2018
More on bike touring, Italy
2018
Food and Wine of Puglia, Italy
Find our photos and details of our ride through southern Italy here: "Eleven Things We Loved on Our Italy Bike Tour through Puglia"
2018
Pablo and the Galapagos, Ecuador
2017-2018
Galapagos, Part 2, Ecuador
Read our award-winning post about our travels to the Galapagos: "A Land-Based Tour of the Galapagos."
2018
Olympos, Karpathos, Greece
2018
Artisans of Karpathos, Greece
Read all about our visit to Karpathos, including food, towns, swimming coves, day hikes, history, and friendly people. "Embracing Karpathos Island, Greece."
2018
Exceptional food in Jämtland and Värmland, Sweden
We write all about our first visits to upper Sweden regions, Jämtland and Värmland, including great food finds. Yum.
2018
Citizen Science: Tom reports from Malawi
Read Tom's full story on Malawi: "A Malawi Diary: 12 Days with Biosphere Expeditions'
2017
Discovering Salta, Argentina
Learn more about Salta, Argentina.
2017
Ushuaia, Argentina
Follow us on our travels to Ushuaia and Tierra del Fuego.
2017
Buenos Aires, Argentina
Here's our full story on one of our favorite cities, Buenos Aires. And we learned a bit about Malbec and other Argentinian wines, too!
2017
Fred Schlomka of Green Olive Tours, Israel and Palestine
For more background on Fred Schlomka and Green Olive Tours, read our post, "Crossing Barriers in Israel with Green Olive Tours."
2017
Croatia
We wrote about Croatia cuisine after visiting Dubrovnik and Split, and about post-Soviet era people and towns, "The Other Side of Croatia."
2017
Biking Brittany, France
For photos and the story of our first Euro bike tour, check out our "Brittany Backroads" post.https://travelpast50.com/bicycle-tour-brittany-backroads/ We include more foodie details here in "Culinary Highlights" of our Brittany France bike tour.
2017
Canary Islands, Spain
Enjoy this post about Kris's time in the Canaries with her family. "Family Travel to Tenerife."
2017
Natchez Trace and the Road to Music Cities. Tennessee and Mississippi, USA
See more about the scenic drive, on the "Road Trip Between Music Cities." Our road trip took us to "Tunica County and the Mississippi Delta Blues."
2017
Casey Hanisko of Adventure Travel Trade Association on adventure travel trends, Part 1
2017
Continued: Interview with ATTA's Casey Hanisko on adventure travel trends
2017
Ubud, Bali
Tom writes about "A Golden Hour Tour with Agung Rai" in Ubud, Bali.
2017
On Minneapolis, Minnesota, USA
Read our guide on things to do in Minneapolis and St. Paul, our home towns.
2017
On National Parks, USA
Here's an index to the U.S. National Parks, with links to those we've photographed and written about.
2017
Lesser Known National Parks, USA
For more on one of our favorite 'lesser known' parks, read about Lassen Volcanic National Park. In January 2020, we visited Channel Islands National Park
As Guests on Podcasts
2017
Kris interviewed by Veronica Matheson on being a nomad. On nomadic travels
April 2019
Responsible Tourism Kristin Henning discusses Responsible Tourism with Big Blend Radio
(Also featured in Park and Travel Magazine Spring/Summer 2019)
News
Betty Spears needed help with her medication management. She also simply wanted a kind word. She got both from…