Tuesday November 28, 2023
Latest:
55 total views
We'd forgotten what it feels like to do a road trip in Spain, to hire a car internationally and have the freedom to drive cross-country with no more than half a plan.
Our road trip in Andalucía followed two weeks of travel in Northern Spain with our Travel Past 50 tour group of 12. We enjoyed the company of others and the great food and guided experiences we'd carefully planned in advance. Now we were ready to relax and wander with our rental car on our first return to Sevilla and Andalucía in several years.
Note: This post and others on TravelPast50.com may contain paid or affiliate advertising links.
Return to Andalucía: the road trip backdrop
Note: Listen to another version of this story, an interview between Kris and Graeme Kemlo of Travel Writer's radio. They chat about the white villages of Andalucía and also the Picasso Celebration 2023. Find the audio here.
It might have been Sevilla that first captured our hearts and led to our love of Spain. We spent a wild Holy Week there some 25 years ago and will return for Semana Santa in 2023.
To our minds, the Andalucía region – which includes Sevilla – represents the essence of Spanish culture. Jamón Ibérico, olive oil, flamenco dance and Spanish guitar are all produced here. Shaded narrow streets in white villages, bright expanses over the broad valleys, and mountains towering over the Mediterranean Sea and the Straits of Gibraltar are all infused with a vibrant air. Andalucía is a place that makes you want to paint the hot air. For synecdoche's sake, Andalucía is Spain.
The half plan – the only plan we made in advance – was to use some accommodation credits we ran across. From there we discovered Tugasa Hotels and ended up booking four nights in the town of Olvera and three nights in Castellar de la Frontera, both small fairly untouristed towns in Cádiz.
Then several months slipped by, and we realized we'd need a car to travel from Sevilla to these destinations. Enter Discovercars.com, the worldwide, third-party, search and comparison website for rental cars. Before leaving the U.S. we booked a compact car from Record-Go, one of hundreds of companies accessed via Discovercars.
That's all we needed. To return to Andalucía, drive through mountains, get off the grid, allow several unplanned days, stay in small towns, and drive on Spain's roads made us feel like we lived there again.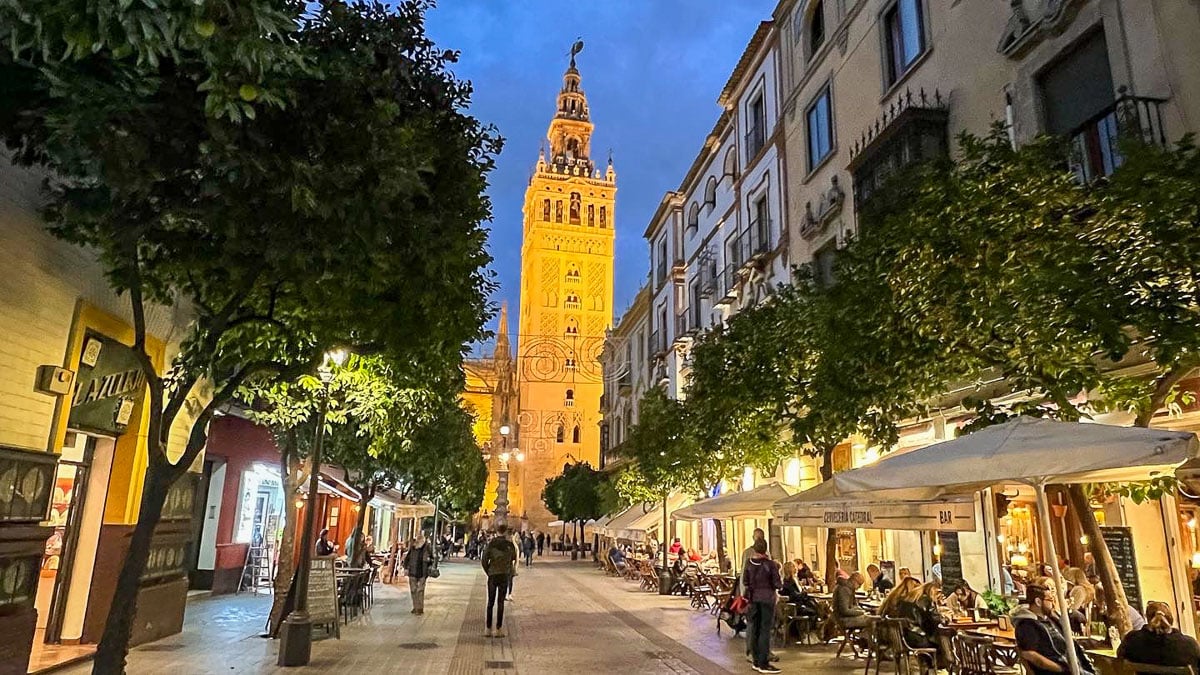 A road trip from Sevilla through Andalucía
Here are the trip's highlights, with tips on hiring a car in Spain, food and accommodation notes, and our abbreviated guide to the towns and sites along the way. We admit we did no advance research on our destinations, other than mapping the way there. In this case, our little knowledge led to some nice surprises.
Note: See our quick guide to Sevilla here. We'll be sure to update this post after our next visit in April 2023!
Renting a car in Spain
In general, Spain is a safe and relatively easy place to drive. Road signs are well posted. Drivers mostly stay within their lanes and within the speed limits, and road conditions are good. Roads vary from tollways and freeways to narrow country roads, to the occasional one-way cobbled street leading you through medieval towns. In Spain, as anywhere, adjust your driving to the current roads and conditions. Avoid trying to squeeze your car where it won't fit and you'll be fine.
Finding the car you want to rent, at the price you want in the place you want is easier than ever with online reservations and third-party search sites like Discovercars.com. The process of reserving your car is not so complicated if you review these tips and reminders.
Choose car companies with good ratings.
Consider your pick-up and return locations. Airports may be cheaper, but train stations or hotels might be much more convenient.
Double-check your pick-up and drop-off times so they fit your travel schedule and are most cost efficient.
Look for the amount of the deposit required and be sure the driver has a credit card. You'll need this even if you've prepaid.
Know your credit card benefits when paying for your rental car. You can then refuse additional insurance with confidence.
Choose 'Full to Full' fuel policies to avoid high charges later.
Choose unlimited mileage for any extended rentals.
Review and book any optional extras in advance to save. These might include fees for additional drivers, child seats, or GPS navigation.
Read the pick-up instructions carefully.
Carry a printed copy of your reservation, even if you have a digital version.
Get clear instructions on returning the car, including directions and hours.
If you are using a third-party to reserve your rental car, be aware the counter representative will do their best to scare you into more insurance. Just to be sure, we took our clerk's good advice to video and photograph the car's every dent and scratch so we had proof of its condition before going out.
We paid separate deposits for the car and for fuel, even though we'd selected the Full to Full plan. Both deposits €1400 and €108 were credited back to us within a couple weeks of our returning the car.
We were dismayed to have to pay a €70 premium because of our driver's senior age. Oh well, we'll take the discount at the museums.
Note: for laughs, read about how we manage to survive driving and navigating in England and Ireland or Romania, all while remaining married to each other.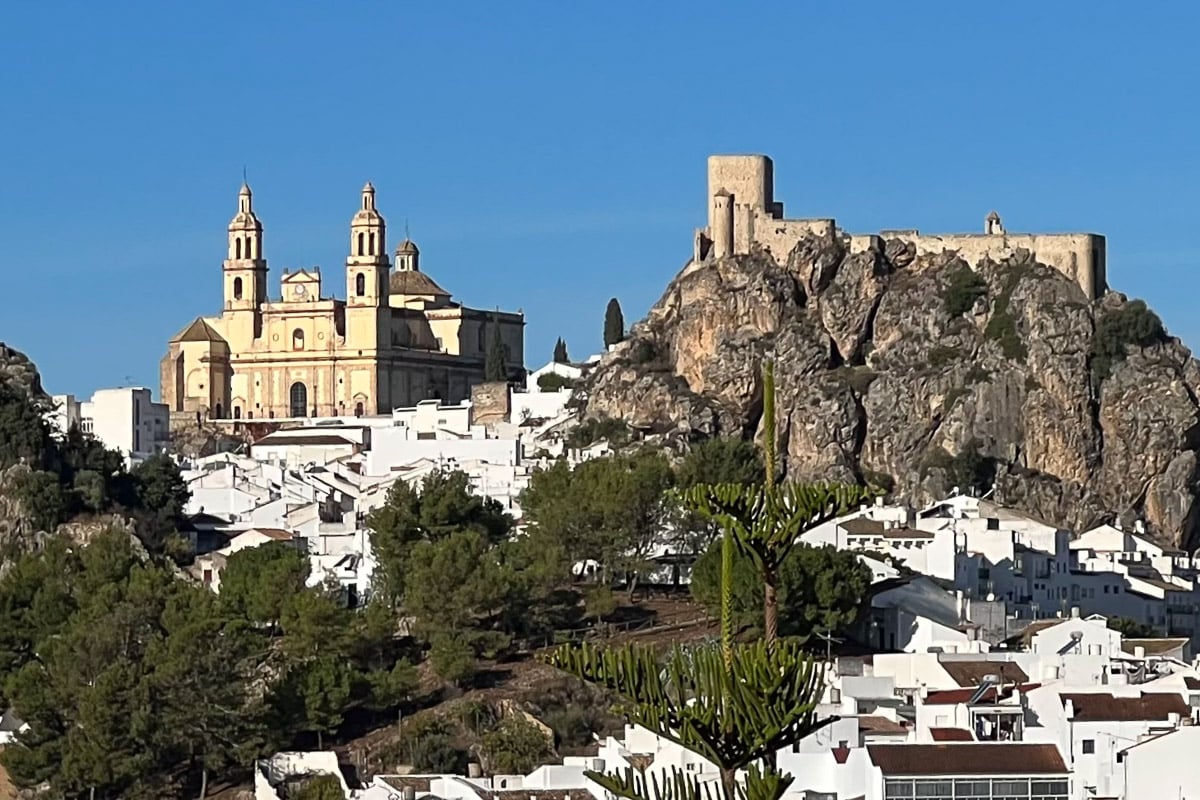 Olvera (Cádiz)
Our first day's drive was pretty straightforward, just about 100 KM (65 miles) to Olvera. After getting out of the metro area of Sevilla (through several big roundabouts), the first portion was on the major A-92 freeway.
The last third was a curvy mountain road through expansive olive groves covering broad mountains. Where there were no rocks, there were olive trees, and we imagined sheep and goats gathered in the crevasses beyond our view. Olive trees as far as we could see in every direction.
As we neared Olvera, we saw more and more castles perched on rocky inselbergs, with nearby church spires jabbing up into the sky. These castles were once key defensive positions and could visually messaged each other. We climbed dramatic S-curves into Olvera, and turned up the main street where a few old men who had spilled out of the corner bar directed us the last couple blocks to our hotel.
Olvera, we quickly learned when we looked out our hotel window, is one of Cadiz's string of "white villages." Many guide books provide driving itineraries circling this part of Cadiz, from Arco de la Frontera to Ronda with at least a half dozen pueblos blancos in between. Spain's useful tourism site outlines white village itineraries throughout Andalucía.
Olvera Sights
The relatively untouristed Olvera is distinguished by its Moorish castle, Castillo Árabe, right alongside the 19th Century neo-classical church, built atop Gothic-Mudejar remains. These monuments can be seen from miles away. The most picturesque views are from across town or from the base of the narrow street leading up to the plaza between the two buildings.
Also off the Plaza de la Iglesia is La Cilla, a converted grain storage facility now housing the city's tourist office and the Museo de la Frontera. An interesting cemetery adjacent to the castle and church is worth a stop. Climbing the castle walls for elevated views requires a ticket and some daring to navigate the narrow and worn stone stairs.
Olvera is also a gateway to the wonderful Via Verde de la Sierra. This is a converted rail line, abandoned before it even fulfilled its Civil War functions and now dedicated to bikers, hikers, and horseback riders.
This particular stretch of greenway is only 36 kilometers, but with other sections totals 500 kilometers of Via Verde trails in Andalucia. Olvera's station includes bike rental, and interpretive center, and accommodations in converted rail cars. Learn about the griffin vulture rookery midway through the trail.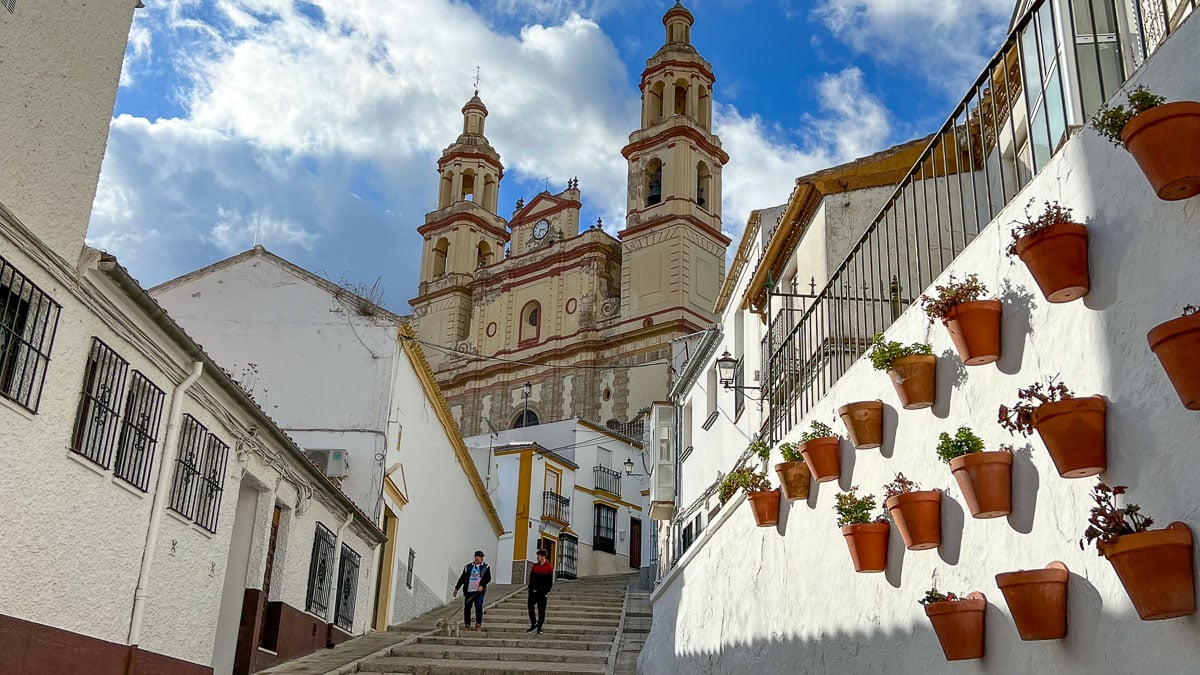 Olvera Hotels and Restaurants
Hotel Estación Via Verde de la Sierra Converted rail cars serve as hotel rooms, while the bar/cafe serves both guests and trail users.
Hotel Sierra y Cal A nice accessible hotel with parking and easy walking up to the castle. This hotel is in the Tugasa hotel group with locations sprinkled across the White Villages route.
El Corral del Pacheco. So good we returned twice, enjoying a twist on traditional Spanish cuisine. We tried crispy Nairobi chicken over rice; scrambled eggs with mushrooms and langostines; salad with pears and nuts; excellent torrijas (custardy French toast) with vanilla ice cream.
Bar la Plaza. This unassuming place in the Plaza Ayuntamiento, just across from the church, was friendly, quick, and good.
Bar Restaurante El Olivo. Popular and perfect for Sundays and big family celebrations. We sampled a shoulder of lamb, lamb chops, mixed salad and, based on our server's recommendations, the torta de queso (cheese cake) with raspberries.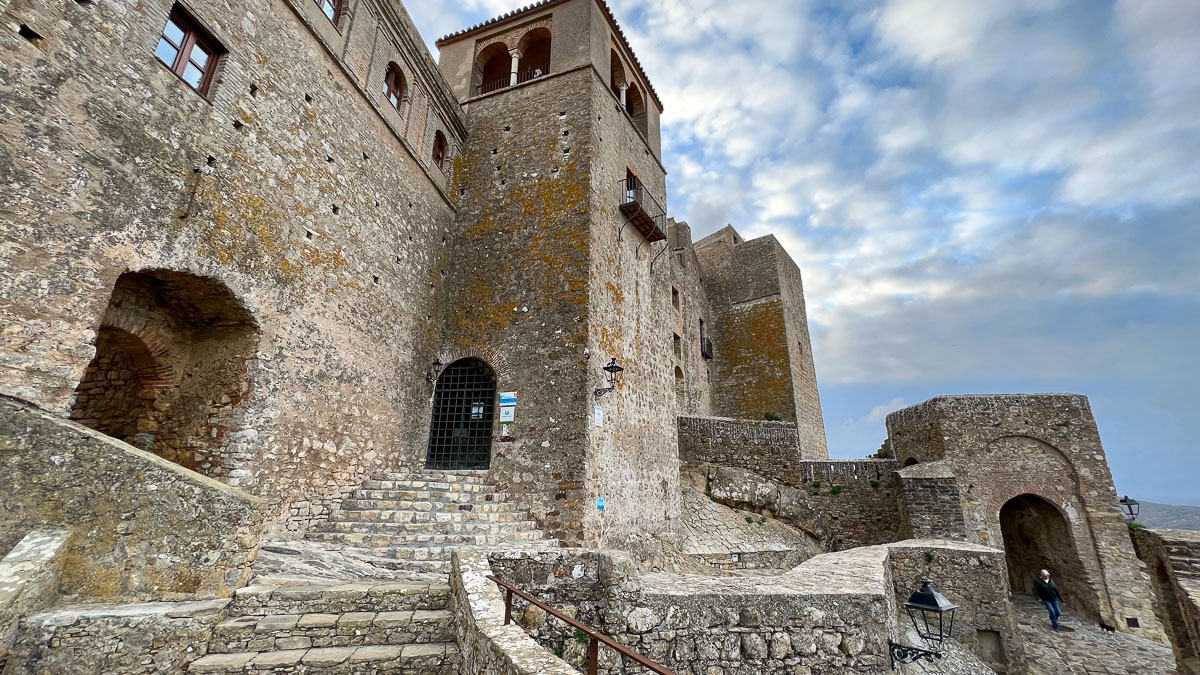 Castellar de la Frontera (Cádiz)
Driving from Olvera, skirting Ronda (because by this point we'd made plans to return later in the week, south along the edge of the Parque Natural Sierra de Grazalema and Parque Natural Los Arcornocales.
Little did we know, as we drove through gorgeous mountains filled with olive trees, that we'd find so many scenic overlooks. We stopped at one and climbed a small knoll…to realize suddenly we could see the rock of Gibraltar and the sea! A spectacular drive.
Castellar Sights
Castellar de la Frontera is not made for sightseeing, other than the views from the Tugasa Hotel Castillo de Castellar. Those views include the Rock of Gibraltar to the south and, to the north, the wetlands and lake created by the damming of the Guadarranque River.
The castle village attracts Spaniards looking for a little retreat, and castle aficionados like the Basque/Spanish fellow we met whose hobby is photographing castles. This is the right region for it!
The town consists of the medieval castle and its tiny walled village. Within the walls live 18 residents. A few old homes have been converted to guest houses. Another houses the excellent little restaurant that serves all the towns' guests. Outside the walls, another 100 families or so reside down the mountainside a bit, where services are easier to access.
We spent our days walking inside and outside the walls, photographing the scenery, peering at Gibraltar and Morocco beyond, eating very well in the hotels restaurant, and enjoying a couple World Cup matches on the TV in the hotel bar/breakfast area.
Castillo de Castellar Hotel and Restaurants
Hotel Castillo de Castellar de la Frontera Our large room located in the castle tower featured high ceilings and a balcony.
Restaurante El Aljibe. Specializing in local products in the cozy atmosphere of the 13th-14th Century castle. We ate here daily during our stay, and didn't tire of the food, or the nice wine list.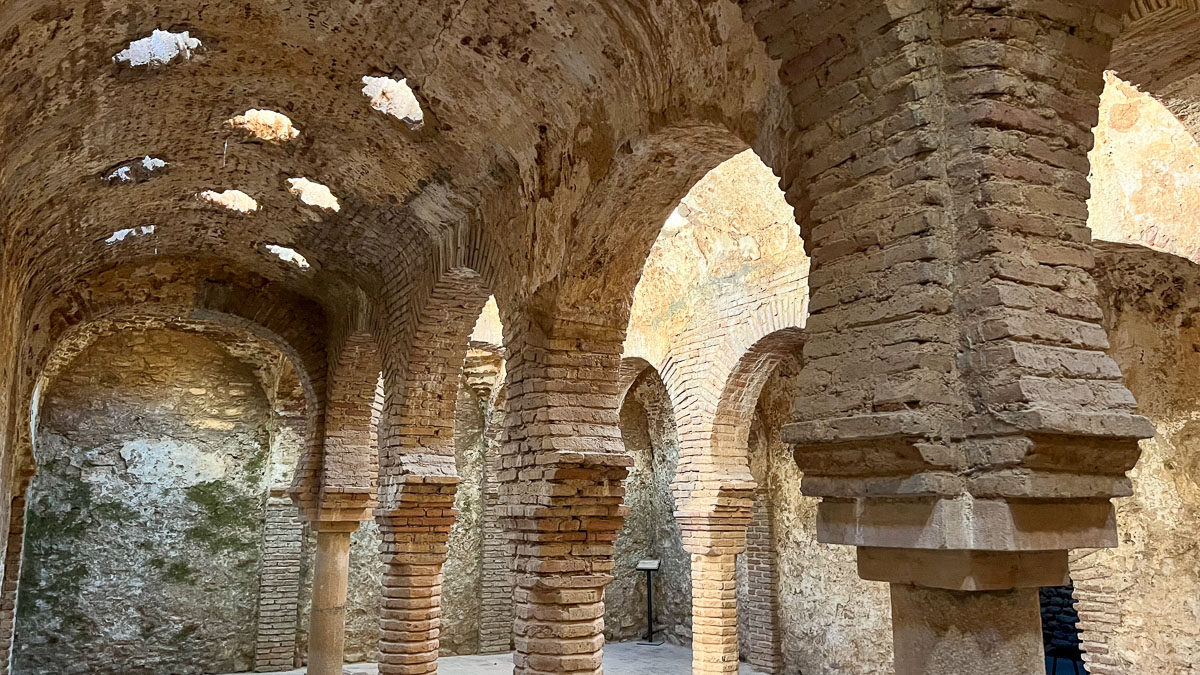 Ronda (Málaga)
Finally, we backtracked to visit Ronda after deciding a day visit wouldn't be enough for us. Ronda, an historic town in the province of Málaga, is another of the Andalucían "white villages." Its busy tourism, though, is attributed to the town's spectacular position striding a deep river gorge, it's history of bullfighting and the associated lore created by Earnest Hemingway's visits there.
Ronda Sights
The gorge with new and old bridges. Most likely you'll be parking or delivered to the north side of town, the newer section. Walking is easy from here. If nothing else, follow walks around the Parador situated on one edge of the gorge, to get good views of the new bridge (18th Century) and the (thankfully) undeveloped countryside off to the west of town. In front of the Parador is Plaza España which was referenced in Hemingway's For Whom the Bell Tolls as the site where locals were lined up and walked the gauntlet before being shoved off the lip of the precipice.
To get a better sense of the gorge, you can walk a ticketed path from the new bridge down into the gorge, or follow a free trail from the opposite side. This second trail in late afternoon will give you best lighting and angles in case you want to replicate the famous Ronda bridge and ravine photos.
Plaza de Toros. Just near the Parador is the famous Ronda bullring, open for tours. (Bullfighting these days is limited to one week in September.) This is widely regarded as the first and best purpose-built bullring, constructed in the early 1800s.
Baños Arabes. The old city, across the bridges to the south, dates from Islamic times. Walk to the Baños Arabes to take in the old bridge plus ruins of the Arabic bridge. The Arab baths are well worth a visit. Remains of the three tiered baths – hot, warm, and cold rooms – along with water and ventilation systems can still be discerned. Adjacent rooms provide architectural elements of the day.
Museo Joaquin Peinado. For us, the Joaquin Peinado Museum was one of the unexpected delights of Ronda. Located in the impressive Palacio Marqueses de Moctezuma (another story for another day), the museum displays a couple hundred works by Peinado, a contemporary and friend of Picasso. (Picasso was born in Málaga, not far from Ronda.) Both Picasso and Peinado worked from exile in France, both shared stylistic and subject similarities. When we visited, two or three of the museum's galleries featured Picasso's work, much of which we weren't familiar with.
Iglesia de Santa Maria La Mayor . Walk through the old town to reach this landmark on the south side. Built over the original mosque, the church today holds a weird combination of Arabic inscription, Christian iconography, a bulky carved wooden choir in the middle, and neo-classic chapels around the edges. Best of all might be the bell tower. Climb the stairs to exit onto the church's roof for good views.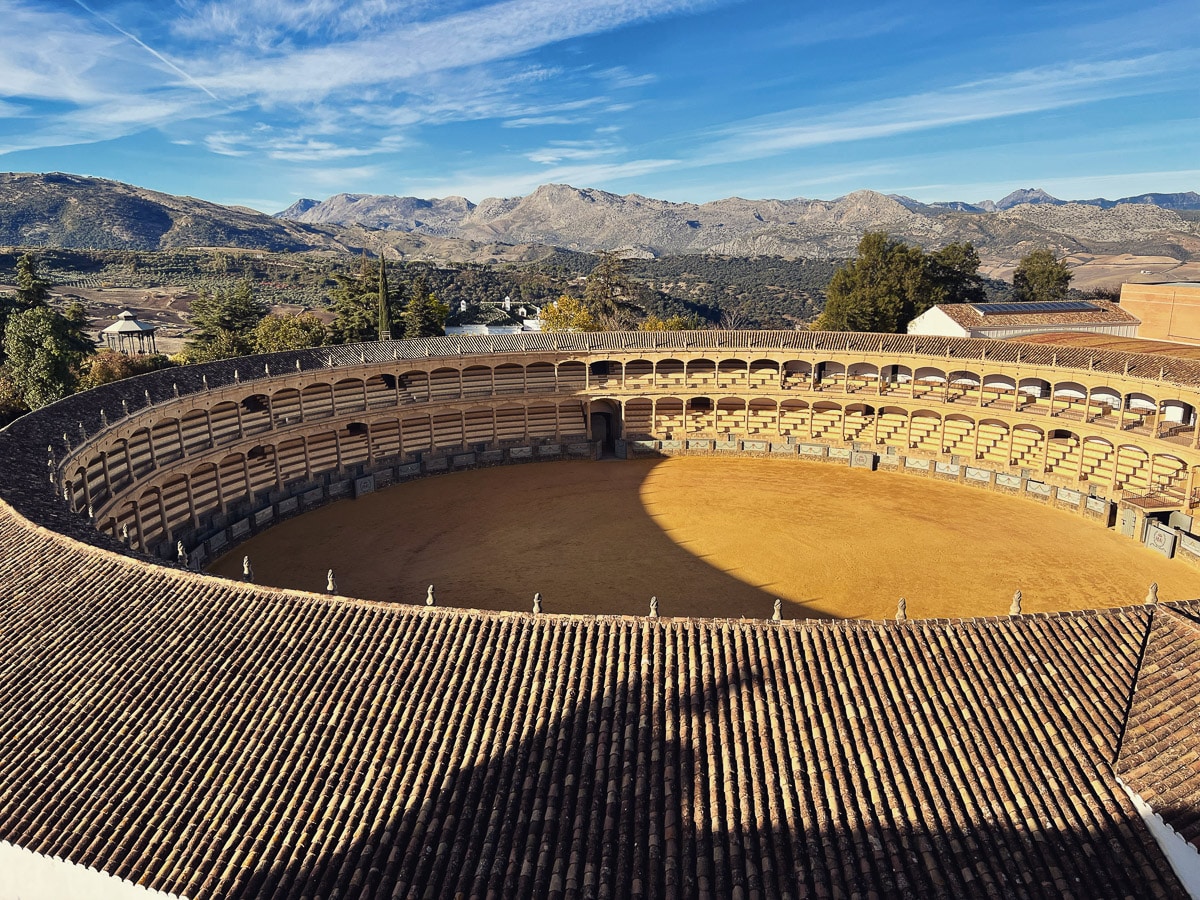 Ronda Hotels and Restaurants
Parador of Ronda A fine example of Spain's Parador hotel system, with five-star rooms and dining in a landmark building.
Hotel Catalonia Ronda From one of our favorite hotel groups in Spain, this hotel is well-located, across the street from the Plaza de Toros, a block from the New Bridge, and at the base of the central shopping and dining area. Expect all the amenities. Our car was valet-parked nearby, but we could load and unload just across the street.
Restaurante El Campillo. Though our timing prevented us from sampling a lot of good restaurants in Ronda, we stumbled into this place, or rather into the outdoor patio tables and chairs. Most notable: wonderful fresh fish and some of the best tomatoes of our entire trip.
Pizzeria Il Forno a Legna. Just right wood-fired pizza.
Also look for all sorts of good eats and drinking around Plaza del Sócorro.
Leaving Andalucía
Because we wanted to maximize our time with our rental car, and because our return flight to the U.S. was from Madrid, we departed Ronda before daylight, drove to Sevilla, returned the car, had a coffee and toast on the corner, and walked across the street to catch a train back to Madrid. Easy!
Our fortnight in Andalucía reminded us of all the individual elements that together form our appreciation of Spain. It's all in these little villages as well as in a big city like Seville: layers of history, medieval architecture, modern art, fresh food, scenic vistas, olives trees as far as the eye can see, proximity to the sea, vibrant life in the mountains, and plenty of friendly people and stories to keep us coming back for more.
Note: Listen to another version of this story, an interview between Kris and Graeme Kemlo of Travel Writer's radio. They chat about the white villages of Andalucía and also the Picasso 2023 Celebration.
When you're thinking of traveling, your first stop should be our Travel Resources page, where we list all the essentials you need to make your travels easier, cheaper, safer, and more fun.
You can also help yourself get ready for your travels by reading our Get Started Planning Your Trip Now page.
We love traveling–with the right gear. We've gathered a lot of the stuff we use to make travel more pleasant and efficient all on one page. Shop our Travel Past 50 Amazon page to find our favorite gear. If you purchase something from the store, Travel Past 50, as an Amazon affiliate, may receive a small commission at no extra charge to you. Thanks.
We never leave home without our travel insurance. Nor should you. Search for the travel insurance from Allianz that best meets your needs, whether it be an annual plan or a single trip.
You can see (and buy prints) of most of our travel photos in one place on this page.
Note: This post and other posts on TravelPast50.com may contain paid or affiliate advertising links. As an Amazon Associate we earn from qualifying purchases.
News
Last week marked the end of the Centers for Medicare and Medicaid Services (CMS) Patient-Focused Listening Sessions. There was…